Get Lucky—Stay Lucky
It has always been the case that so called "novelty lures" are periodically put on the market. One of my favorites was the small replica of a kitchen sink equipped with hooks that one was encouraged to use when all else had failed. The ad presented here is from the May 1953 issue of
Sports Afield
and is for the somewhat famous Lucky Bunny Bait, a lure made from a real rabbit's foot. I always wonder who buys these things and under what circumstances. I would guess the answer is wives who think the bait is "cute" and prankster friends.  
Lucky Bunny Bait advertisements always surprise me because, if the lure wasn't so ridiculous, you would think they were actually touting it as a serious tool for fishermen. Lines like "..a deadly bait for all game fish" and "More life like that 99% of artificial lures..." make it sound like the real thing. They must have sold quite a few as there are ads appearing for it in several outdoor magazines of the period and the bait does show up at lure meets on a regular basis.
While we are here, the cover of this same May 1953 issue of
Sports Afield
as it appears below, caused quite a stir among the public. In following issues several letters were printed from subscribers complaining about the sexual nature of the cover along with threats to cancel subscriptions should that trend continue. The editors must have taken note as
Sports Afield
 covers quickly returned to more traditional outdoor themes.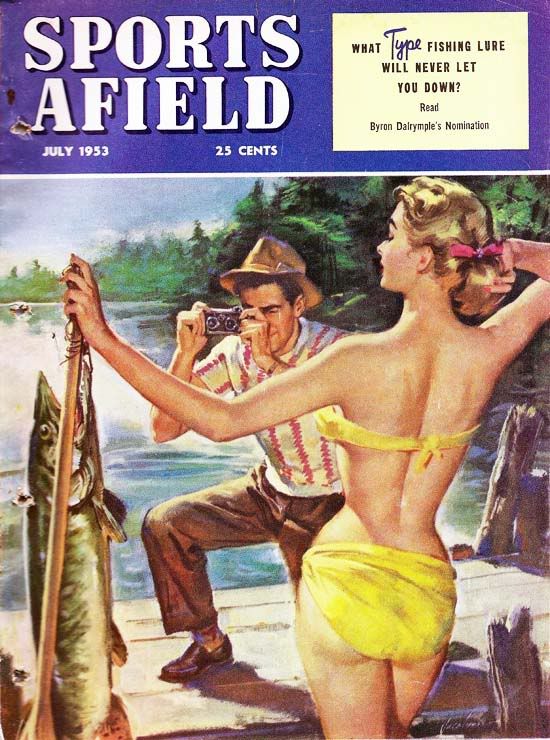 -- Bill Sonnett