Today we have a special treat. A few weeks ago on the Field & Stream Vintage Tackle Contest, I wrote up an entry on the Old Dominion Lures tackle company. Mike Woody wrote in and shared a lot of information on the firm's history, which he has kindly consented to share on the blog. Thanks, Mike! I've always wanted to know the story behind these lures. Please note also Mike will be selling some custom versions of these lures as a fund raiser to help out cancer victims. We'll keep you posted on these!
Doc Shelton's Old Dominion Lures:
"Old Fashion Wooden Plugs with a New Design"

By M.G. "Mike" Woody
I came upon the knowledge of the Old Dominion Lures (ODL) through my father L.G. Woody a member of the National Fishing Lure Collectors Club (NFLCC) at this time, Dad was buying all the old tackle and wooden lures he could find and afford. he was running ads in many out of town papers within 100 miles from his home. Dad received a call one day from a Mrs. Shelton about the ad, she informed him that her husband "Doc" had owned the ODL Co. and gone on to the happy fishing grounds, in her words it seems Doc had many sayings like this. Doc had left her with a few thousand of lures, boxes, blanks, hooks, hair, etc. and she wanted to sell everything.
Dad made an appointment and drove to her home. She showed him the line of lures her husband had marketed under the ODL name. There were 6 models available:
The Sneaky Bird #1 (the most popular), Sneaky Bird#2 , Big Mama , Little Mama, Mr. Whiskers #1, Mr. Whiskers #2 .All were top water lures
Bass Masters advertisement March 1980
The lures were advertised some during the '70s and '80s like the one shown, cost was $8
for one lure and a discounted pricing scale for multiple lures. Mrs. Shelton gave my Dad this advertisement.
Mrs. Shelton offered a tour of her home pointing out several pictures of Bass that "Doc" had caught with his ODL's. Mrs. Shelton offering info on "Doc" disclosed that he had at one time owned a hotel and an automobile dealership. She also offered the real story behind the Sneaky Bird #1; while on Vacation in Europe he discovered a whistle and the first words out of Doc's mouth were "That would make a good fishing lure." So Doc struck a deal with the company and had a couple thousand shipped to his home, no two of these whistles are exactly alike but are similar. From the #1 came Doc idea for the sneaky bird #2. Doc made prototypes of lures by hand that he thought would be interesting and catch fish. I have most of the prototypes; Dad sold a few to interested collectors at NFLCC conventions and events like that.
Doc settled on the 6 previously mentioned models, he hired a sawmill in Buckingham, Va.
to cut the blanks for his lures (not the whistles). He had his employees paint his lures using automotive spray paint, one of the extras for owning a car dealership.
Mrs. Shelton offered everything at a price my dad could not tie up in them at the time, so he bought two of each model (12 lures) and told Mrs. Shelton if she ever changed her mind and could take less to please contact him. She later called him and told him to drive his truck down that she would sell him everything and clean out her basement, including Doc's business cards, stationary, and ODL envelopes.
I now have what is left of ODL, including prototypes, blanks, etc. I have listed several on ebay to share with collectors and fishermen. Dad sold and traded most these and now they're scattered from coast to coast with experts in Texas, Mississippi and parts unknown who claim to know the background of ODL company, always referring to "DOC" in their claims. Stories about the rare colors, and so on. Doc only sold lures painted in the automobile paint. My Dad had a few custom painted by someone he met from the NFLCC at a convention but the cost was too much to do modern patterns and he gave up on the new look for ODL.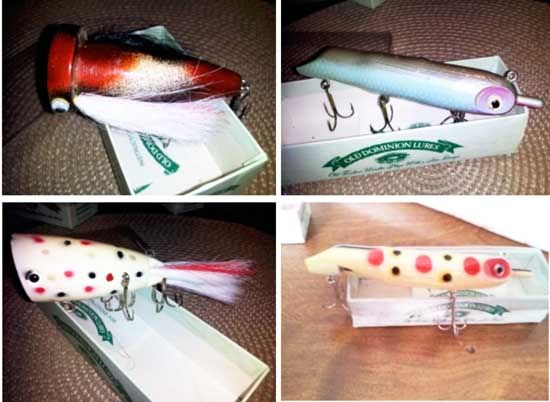 Special Paint Schemes done after acquiring ODL from the Shelton's
I have seen some nice displays of them, they are attractable, fishable, collectable wooden lures. My dad has caught fish on them, especially the Little Mama. My Dad's comments on the sneaky bird #1: "if the fish don't bite, blow the whistle on it and knock the fish in the head with a paddle when they jump in the boat." Seems he had a lot of fun with that line.
As for the modern times and my plans with these lures, I used to be a collector for many years, I loved collecting crazy crawlers, I got remarried about 20 years ago and sold my collection. Now I have a collection of ODL prototypes that I plan on framing and displaying in my home or office. As for the remaining lures, I have very few blank boxes left and when they're gone that's all of it. Last year my daughter was 3 months pregnant when diagnosed with breast cancer, all seems to be going well now with her heath and my grandson born last fall . She is finishing up radiation treatment, we also had another family member diagnosed and almost lost to colon cancer during the same period. My Family has become involved with Relay for Life and I am looking into marketing some of the ODL blanks in Pink, or with ribbons and making donations for the sale of each lure, I'll keep you posted on where I am with that, I'm hoping to have some available by mid -April.
I hope what I have provided has shed some light on the Old Dominion Lure Company, If you or anyone has any information on David R. "Doc" Shelton before the ODL years please let me know as I would love to document the man behind the company.
-- Mike Woody
-3-