Over the course of the next year, we'll be detailing the history of 52 companies that sold branded fishing tackle. 52 trade houses in 52 weeks -- some obscure, some famous, and all available exclusively here on the Fishing for History Blog! If you have any items from the week's entry you'd like to share with us, please send it my way and I'll make sure it makes it on the blog.
For a discussion of what exactly trade tackle is,
Click Here
. Enjoy the 52 for 52!
o - o - o - o - o - o - o - o - o - o - o - o - o - o
Trade House Tackle, Part 52:
Who Sold Your Tackle? The Fascinating Story of Brintnall's of Boston
Who sold your tackle? That's the driving question behind my year long series "52 for 52," which today celebrates its 52nd and final installment. If there has been one thing I want people to take away from this project, it is that it's as important to understand exactly who
sold
your fishing tackle as it is who
made
it.
Finding the retailer/wholesaler is largely a fruitless endeavor. Mostly what we're left with is a name, an address, and if we are lucky, a line spool, lure box, or fishing reel marked with a seller's trade name. We rarely get to know the individuals and their own unique stories behind the tackle which was sold to eager anglers, all in the hopes of catching a fish.
Sometimes, however, we catch a break--we learn a bit of history, a snapshot of time, and even a name and a face we can put to a piece of tackle. A man like
J.H. Wiggers
, tackle shop owner and the "Dean of Poughkeepsie Anglers," as his friends and clients called him, but largely forgotten today. Even someone as famous as
Eddie Bauer
, a name still widely recognized today, has been mainly forgotten as a trade dealer of tackle.
That's a shame. Many of these trade houses had fascinating histories that mirrored American history, and studying (and collecting) them can be a blast. They can lead us to both interesting and important facts, but most of all, they can help remind us that behind every name is a series of men and women who sought above all else to make that name
mean something.
I was reminded of this point earlier last week when collector Kip Gomez put up an obscure snell marked "Brintnall's" on Joe's Board. I emailed Kip and asked him about it, and as a testament to his character as an all-around good guy, he emailed me back and said "send me your address, you can have it."
We are fortunate in this little community of ours. Random acts of kindness like this happen every day.
I was planning on finishing up my year long project with a bang, with a history of a trade house I'd been tracking for several years. But I knew fate had something in store for me. I had to find out who Brintnall was.
The first clue was the address, which to anyone familiar with Boston tackle, should ring an immediate bell. 374 Washington Street (opposite Bromfield Street) was the address of Bradford & Anthony, the famed Boston trade house that succeeded the legendary Martin L. Bradford's "Sign of the Angler" pre-Civil War trade house. Bradford & Anthony was itself succeeded by the firm of Dame, Stoddard & Kendall in 1883. DS&K became Dame, Stoddard & Co. in 1900, a name they utilized until around 1921. The store then became known as Stoddard's and continued at the 374 Washington address until the 1960s when the company moved to 48-50 Temple Place. This address was closed in 2004 but a branch operation of Stoddard's is still in business. Stoddard's continued to sell fishing tackle until the move to Temple Place, after which they concentrated on fine cutlery (for which they were noted).
The venerable 374 Washington Avenue address ca. 1890.
But what of Brintnall's? And why does it have the same address as Stoddard's? And why is the name Brintnall's overstamped? This snell was chock full of tackle mysteries.
After much research and thinking, I believe I have the answer. It's still not entirely clear, but I believe Brintnall's was a very short lived transition period name that came between Dame, Stoddard & Co. and Stoddard's, the name by which the firm was known since 1921 or early 1922.
This 1906 letterhead, courtesy of J.K. Garrett and L.P. Brooks, shows the progression of the company: Samuel Bradford (1800), Martin L. Bradford (1845), Martin L. Bradford & Co. (1856), Bradford & Anthony (1867), Dame, Stoddard & Kendall (1883), Dame, Stoddard & Co. (1900). To which we might add Brintnall's (1921) and Stoddard Co. (1921).
Thus I believe this Brintnall's snelled packet dates from around 1921, in a very brief transitionary period when the firm was being renamed Stoddard's. Somehow this name did not last, and like many tackle companies, rather than throw out the snelled packets marked Brintnall's, they used a rubber stamp and stamped over it with the more familiar name Stoddard's
The famous Dame, Stoddard & Co. name.
All of this brings me back to my original question. Who sold your tackle?
In other words, who was Brintnall?
Not an easy question to answer, but after much digging, I discovered that the namesake was Robert R. Brintnall, listed in the 1925 Boston Directory as "Clerk, 374 Washington" with a home in Cambridge. It turns out that Brintnall was a long-time clerk for Dame Stoddard & Co. who, for a brief period of time, took over the store at 374 Washington and changed it to his name.
Why did it disappear so quickly? It is not known exactly, but one suspects it had something to do with the economy. Stoddard's was a name with a long history and tradition in Boston, and I believe the name change seriously hurt business (note that Brintnall even took the pains to put his connection to DS&Co. on his snell packets). We know that the tackle business for Stoddard's slowed considerable
in the 1930s
, and with the company concentrating more and more on cutlery and tackle competition becoming more intense, it makes sense he would revert to a name more people would recognize. Whether he had a change of heart, or was forced by economic circumstances, the firm did indeed revert back to the better known Stoddard moniker, and stayed at 374 Washington Street until the mid-1960s.
All of this gives us a bit of new history on an old company, but it doesn't fully answer the question:
who
sold your tackle?
Fortune sheds its light upon us today. A 1953 article in the
Kingston Daily Freeman
shows a smiling elderly couple -- likely in their late 60s or early 70s -- under the header "Happy at Losing $2,000,000 Headache." Underneath was Mr. and Mrs. Robert R. Brintnall.
It turns out that Mrs. Brintnall was set to receive a windfall of $2 million from the passing of a cousin and uncle in Toronto, but Canadian law prevented her from collecting the massive sum (the economic value of that amount is equal to $76.6 million in today's terms). The caption notes, "Mrs. Brintnall says she has had severe headaches and been bothered by strangers seeking money every day since she was notified she might inherit the estate. Now that she has been told she can't expect the money her headaches have gone and life is more peaceful."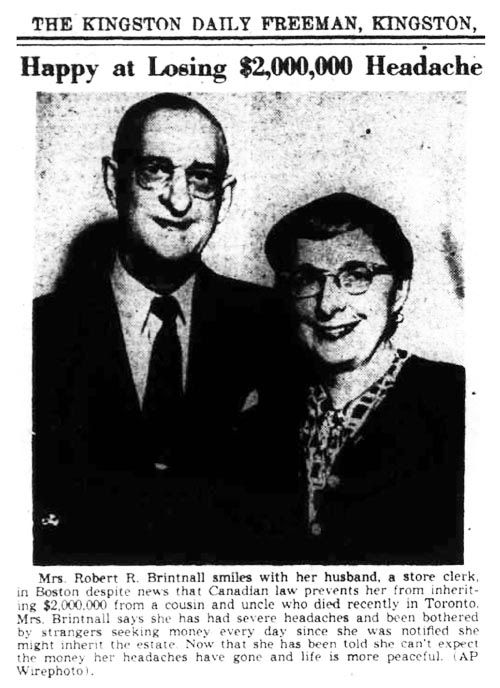 Take a look at the photo.
THIS
is who sold your fishing tackle. A normal, everyday gentleman in a clean suit smiling with his wife because they avoided the headache of having too much money. A humble tackle clerk who's name, for at least one brief, shining moment, adorned the company for whom he worked for decades.
It's a fascinating story and one we would likely never know unless Kip Gomez posts a picture of an old snelled hook packet on the internet. Thank you, Kip, and everyone else who bothers to save this ephemera which is so easy to overlook. Thanks to Robert Brintnall for selling Bostonians fishing tackle for so many years. And most of all, thank you for reading my ramblings over the past year. I hope you enjoyed it, and learned a bit about trade tackle.
And with that, we close out 52 for 52, a year's worth of histories both short and long, all of them dealing with the tackle of the trade.
I thank everyone for coming along on this journey with me, and leave you with one final thought:
Who sold YOUR tackle?
-- Dr. Todd