VMC celebrates a century of fish hooks...a fishing marathon...kayak fishing is getting hot...British winter is punishing tackle merchants...the lowdown on sexing fish...Ted Takasaki, walleye pro...the Madman of the Sea...musky on the fly?...a huge barbel...a Trinidadian Wahoo tournament...the Leadsled Crank Bait...a record setting Allcock Aerial...a special fishing boat is available...a Corpus Christi tackle icon passes on...stocking your first fishing tackle...the Fred Hall Tackle Show is on!...the story behind the World Record Brown...a day with Kato Seiji, master lure maker...it must be THE NEWS OF THE WEEK!
The Big Lead
:
French hook maker VMC
celebrates its 100th year.
This fishing marathon
is a great success.
Why kayak fishing is growing
by leaps and bounds
.
The awful British winter is hitting the
tackle business hard
.
The Australians give us the lowdown
on sexing fish
.
Ted Takasaki
continues the tradition of walleye fishing in Brainerd, MN.
The 411 on the
Madman of the Sea
.
Iowa's
Times Republican
is
reelin' in the outdoors
.
Talking
musky on the fly
.
Man loses job, turns to
making fishing lures
. Finds himself with a much better career. The moral of the story? Fishing rules.
A huge barbel
is caught in the River Lea.
A pretty awesome fishing boat name:
Trinidad & Tobago is offering $35000 in prizes in their
annual Wahoo tournament
.
The
Leadsled crank bait
.
An Allcock Aerial
is set to break records.
Dick Streater sends word that he wants
a new fishing boat
, and you can get it on eBay.
Corpus Christi tackle icon
William B. Miller Sr.
passes away.
How to stock your
first fishing tackle box
.
The Long Beach Post
reports on
the Fred Hall Fishing Show
.
The story behind the
Manistee Monster World Record Brown
.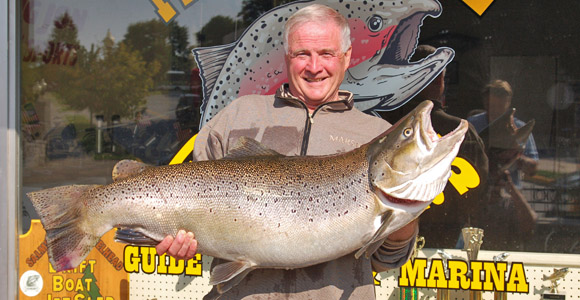 Finishing With A Flourish
: Spend a day with master lure designer
Seiji Kato
.
-- Dr. Todd