The Big Lead
: American angler boats
new world record Peacock Bass
, weighing in at over 28 pounds.
A new world record Peacock Bass...Aussies are x-raying their fishing lures...bears are much better anglers than you...so are nine year old South Carolinians...fish more, work less...fishing rod helps make crappy movie possible...tape sculpture of an angler...tarpon fishing...Tred Barta is back...if it's new bass anglers will buy it...Rory's of Temple Bar...it must be THE NEWS OF THE WEEK!
Wayne Real sends in notice that those fantastic Aussies have now taken to
x-raying their vintage lures
.
Bears are
much, MUCH better anglers
than you are.
An Aussie recognizes the truth about life:
fish more, worry less
.
A fishing rod is a key film component in the composition of sure-fire Oscar nominee
Attack! of the Killer Thong
.
Tape sculpture...
of an angler
?
For one angling expert,
it's all about timing
.
Now is the time to
hit big tarpon
.
Nine year old much better angler than you: breaks South Carolina
state brook trout record
.
The fine
art of snagging
.
The Captain returns:
Tred Barta
is back on the airwaves.
Every angler can still
learn something important
.
Glen Andrews
gets the royal treatment on ESPN's Bassography.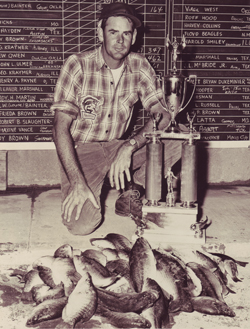 New laws and lost paperwork
anger Massachusetts anglers
.
Wake the Ghost of Ans. B. Decker: Angler lands 46" musky through the ice
at Lake Hopatcong
.
Local Scarsborough auction sees Hardy fly reel
sell for $10,000
.
Frank Moore
, Freshwater Hall of Fame inductee.
The Lake County Record-Bee
declares a truism: if it's new,
bass anglers will buy it
.
Legendary writer John McPhee is hooked by memories of his
father's bamboo fly rod
.
Northumberland Today
declares there is no such thing as
a multi-use fishing rod
.
Finishing With a Flourish
: Ah, right ye ar' Ted. Time indeed does fly down at
Rory's of Temple Bar, Dublin
.
-- Dr. Todd