The Friday Funhouse
Video of the Week
Man, I just hate these videos where people film themselves doing the ordinary...like surfing behind a Great White Shark by using a fishing rod...
Things I Would Buy If Only I Could Afford Them
Remember the
Wigart's Glirr
we helped to ID in the UNID files? Well, now you can get
one of your very own
.

It's Arachnophobia, folks: people are going ga-ga over this
Turner Spider
.

This is one massive
Fin Nor reel
.

Here's a gorgeous
spring loaded trap/hook
.

A Heddon Black Sucker
is always cause for a celebration.

Your Weekly Lure Poem:
Oh
Pflueger Maybug
Years ago you were two bills
Now: at least one large.
Billinghurst,
oh Billinghurst
. I love you. There, I said it.
This is a very, very
pretty creel
.

Martin Bradford's Sign of the Angler in Boston was one of the oldest tackle shops in America; here is a classic
Bradford of Boston reel
that certainly dates from the Civil War.

This King Wiggler
in original box is an interesting combo.

A Halik Fly Rod Frog
(with the legs) has attracted some intense bidding.

A Heddon Tad Polly intro box
is a nifty thing. Maybe Labuznik should have added it to his Super Bowl of Boxes.
Instant Collection Alert: Five VERY scarce South Bend
fly rod lure boxes
for one bid.
Here's a gorgeous combo:
Heddon Jointed Musky Vamp
in Allen Stripey and box.

A very, very rare color for a Heddon River Runt:
Green Pike Scale
.

Falls City
floating minnow buckets
are nifty pieces.
Gotta love the
Sockdolager
.
A nice lure from the
Enterprise Manufacturing Company archives
.
Love this
monochrome CCBC Pikie
. Life is sweeter in black-and-white.

This Polly Wog by Moonlight
has curves that would make Hogarth proud.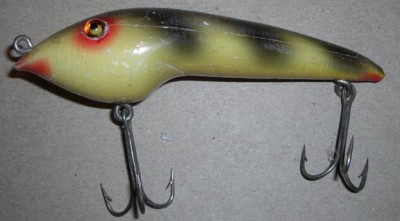 As always, have a safe and happy Super Bowl weekend--and be good to each other, and yourself.
-- Dr. Todd