The Top 30 Fishing-Related News Stories of 2008
From the well over 3000 fishing-related stories we've covered this year we have culled the best and now give you the Top 30 Fishing-Related Stories of 2008, in descending order.
Number 30
: George Wahl, musky legend and
inventor of the Eagle Tail lure
, has passed away.
Number 29
: A pair of Kiwis have invented
a new fishing reel
.
Number 28
: Wanted Dead or Alive:
the Pikeminnow, at $8 a pop
.
Number 27
: Dog owned by Croatian angler outfishes him,
gets sold for its efforts
.
Number 26
: Bill Sonnett gets profiled by
The Toledo Blade
on the
joys of fishing antique gear
.
Number 25
:
A profile of Per Brandin
, master bamboo fishing rod maker whose rods sell for $5000+, that is if you can even get on the waiting list.
Number 24
:
Practical Fishkeeping
details
19 terrifying accidents involving fish
(sum total: 26 dead, 297 injured, and 2 left traumatized).
"Willy fish or Candiru might swim up your penis or vagina if you urinate in the Amazon." That sounds just delightful.
Number 23
: 4-Year Old Girl is Better Angler Than You; catches 50 pound Black Drum on
Pink Reel and Barbie Fishing Pole
. Complete with video. You may now gently weep .
Number 22
: Ski bum runs across
naked angler fishing in the Adriatic Sea
, does not mention whether his initial reaction was "Dude!" or "Duuuuude." As an aside, Dubrovnik is an awesome place to visit.
This is really the ski bum traumatized by naked angler.
Number 21
: Potential
world record bass Dottie is dead
. Long live the Queen!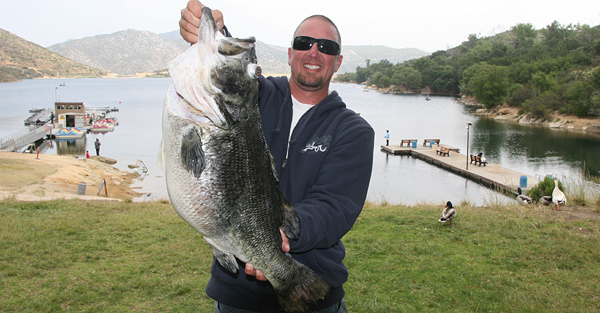 Number 20
: From the We're No Longer Alone File: Orangutang witnessed
fishing for salmon
. You read that correctly. We are not the only simians who fish. Pretty sure I was behind one of them at a boat launch a few years back.
Number 19
: Port St. Lucie Teacher fired
for working part-time on charter boat
....named 'Smokin 'Em' Charters....in a tiny bikini...well, read the rest yourself.
Number 18
: While out fishing, Vice President Dick Cheney is accused of catching more than bass in the
reflection of his sunglasses
.
Number 17
: Quick, name three things that can put a damper on catching a 130-pound catfish? Answer: 1) catching it in a net instead of with rod-and-reel. 2) having your wife hate it. 3) getting it back from the taxidermist
painted to look like a bullhead
.
Number 16
: Bobby Knight offers to coach pro anglers at
The Bassmaster Classic
, then proceeds to mock one of them for his long hair and accuse the other of graduating from a dirty Auburn program. No word on whether he threw a seat cushion.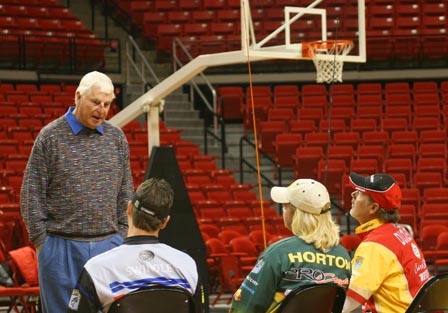 Number 15
: Marilyn Monroe becomes a hall-of-famer for her contributions to...
Fishing Tackle
?
Number 14
: Dying angler's last wish is to be cremated and
mixed with chum to make fish food
. Really.
Number 13
: Legendary and controversial Montauk
shark angler Frank Mundus
--long rumored to have been the model for Quint in the movie
Jaws
--has passed away at the age of 82. Sharks everywhere are rejoicing.
Number 12
: From the No Freakin' Way Files: Small fish
swims up inside boy's pen...
wil...well you get the picture. You may now emit a long "ewwww".
Number 11
: A British angler catches a world record carp named Scar...and its as
ugly as you think it would be
. I'm talking about the fish, of course...
Number 10
: New Big Game Saltwater rod, reel, and tackle: $1500. Saltwater charter boat: $600. Out-of-state fishing licence: $50. Watching some random dude
catch a marlin with his bare hands
while strolling on the beach? Priceless.
Number 09
: In a frequently emailed story to Fishing for History, an 85 Pound salmon carcass is
found floating in a creek
.
Number 08
: Is there a new world record
77 pound muskellunge
???
Number 07
: In one of the most emailed story in Fishing for History's history, Scientists find
monkeys who know how to fish
.
Somewhere Charlton Heston is yelling "get your hands off my rod, you damn dirty ape!"
Number 06
: An awesome story about an enlisted soldier in Iraq, a legendary 100-pound fish, and the truly great tale of
angling in the worst of circumstances
.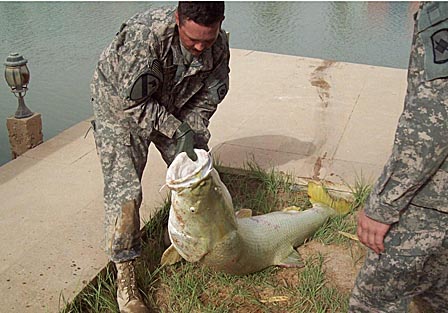 Number 05
: The American Sportfishing Association gives us its
10 most important historical fishing products of the last 75 years
. Controversial? Yes. Incorrect? Also yes (monofilament line was invented in 1940, not 1958).

Number 04
: In the single most reported article in the history of Fishing for History, a man uses his daughter's Barbie fishing rod to
land a record catfish
. It was news so big it made MSNBC and got all the
way to Pakistan
.
Number 03
: Vero Beach firefighter Ben Leahy dumped Hollywood actress Megan Fox...because
he'd rather be fishing
???
Number 02
: A bass fishermen with no arms and no legs has become
an inspiration to millions
.
And the Number 1 Fishing-Related News Story of 2008 is:
: Flashback: Lake Sam Rayburn, Texas: Man loses class ring over the side of his boat. Flash Forward: Lake Sam Rayburn, Texas,
man catches 8 pound bass
with the same class ring inside it.
Thanks for everyone who have sent links, and Happy New Year to everyone!
-- Dr. Todd