Grits Gresham passes away...Minnesota DNR seizes trophy musky for being caught out of season, gives it back when it realizes it doesn't know when season ends...plastic baits are clogging our waterways...get inside the head of Kevin Van Dam...Judy Wong is a bassmaster champion...mark your calendars, May 18 is Ladies' Fly Fishing Day...world's largest kayak fishing tournament...Lindy Little Joe is sold...Zebco gets profiled...Kiwis love their Bluenose Warehou...the Vandalia Rod Works makes nice bamboo rods...Ski bum is traumatized by the sight of a naked angler...it must be THE NEWS OF THE WEEK!
THE BIG LEAD:
Noted outdoor writer, angler, and conservationist
Grits Gresham has passed away
at the age of 85.
For those who missed the 48 hours of wall-to-wall coverage on ESPN2, Alton Jones won the
2008 Bassmaster Classic
.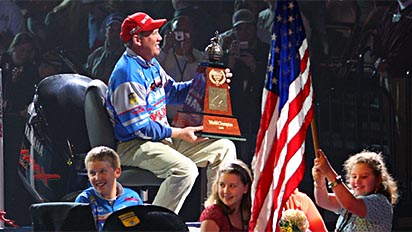 Sportsmen shoot
at global warming
.
Anglers seek to clean up buildup of
plastic worms in waterways
.
The Detroit Free Press
seeks to go where no man has gone before: Inside the
mind of Kevin van Dam
.
A 75 pound catfish on 12-pound test is
the Real McCoy
.
BREAKING NEWS! The outdoors is
perfect for women
.
A fisherman fulfills lifelong dream of
boating a tarpon
.
Joe Ognibene gives you the skinny on the
latest rods and reels
.
Judy Wong wins the
Women's Bassmaster Tour Championship
.
An Englishwoman looks at the other side
of the Bassmaster Classic
.
Britain declares May 18, 2008
Ladies' Fly Fishing Day
.
A Kiwi angling writers is glad we have
technology on our side
in the eternal battle of wits with fish.
An Oregonian
trips the bass fantastic
.
Noted outdoor writer
Bob Schmidt has passed away
.
After it wins
Field & Stream's
Best of the Best award
, Doug Hannon's Wave Spin gets
even more positive press
from
The Salt Lake Tribune
.
Pro angler Skeet Reese
gets profiled by the august
New York Times
.
The world's largest
kayak fishing tournament
starts May 2nd. You know, for those who are into that kind of thing.
Long time Minnesota tackle company
Lindy Little Joe has been sold
.
The Greater Tulsa Reporter
profiles
the history of Zebco
.
Mel Cotton--namesake of the San Jose sporting goods store--
has passed away
.
Six year old girl is better angler than you,
catches 15-pound gag grouper
.
The Mitchell Daily Republic
opines on Minnesota's
obsession with ice fishing
.
The Janesville Gazette
profiles a Whitewater, Wisconsin man
hooked on custom rodbuilding
.
This Week in Know Your New Zealand Fishes:
the Bluenose Warehou
.
Veteran angler hooks,
almost lands scuba diver
.
Bill Thompson outlines the merits of the
Echo Micro Rod
.
The Charleston Daily Mail
profiles
the Vandalia Rod Works
, makers of fine split bamboo fishing rods.
Doug Pike explains why direct-drive reels have
stood the test of time
.
Minnesota DNR seizes ice fisherman's prize musky for being caught out of season, then gives it back when it realizes it
doesn't know when the season actually ends
.
The growth of professional bass fishing
is chronicled in this article by the
Anderson Independent Mail.
Finishing with a Flourish
: Ski bum runs across
naked angler fishing in the Adriatic Sea
, does not mention whether his initial reaction was "Dude!" or "Duuuuude." As an aside, Dubrovnik is an awesome place to visit.
Ski bum traumatized by naked angler.
-- Dr. Todd