A scandal involving using technology to get an unfair advantage
not
involving the New England Patriots...ragin' about cajun lines...how an unintentional chub can warm a cold evening...how to be a fishing guide...the Kiwis love their trumpeter...a good time for barracudas?...Lee Marvin's widow regales us of stories of one tough fisherman...it must be THE NEWS OF THE WEEK!
The Big Lead:
Cheating. Skullduggery. Unfair competitive edge. No, we're not talking about Bill Bellichek and the New England Patriots. It's
fishing competitions
that's got one UK writer's ire up.
Bobby Knight offers to coach pro anglers at
The Bassmaster Classic
, then proceeds to mock one of them for his long hair and accuse the other of graduating from a dirty Auburn program. No word on whether he threw a seat cushion.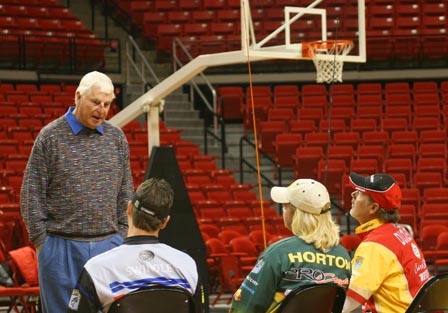 The Rochester Democract
tells us that ice fishing is an
inexpensive way to relax
.
The Detroit Free Press
is ragin' about
cajun monafilament
.
The Miami Herald
profiles Doug Hannon, inventor of the
WaveSpin fishing reel
.
The Minot Daily News
gives us the gory details on fishing elbow and
other angling ailments
.
Well, it's never to early to
list your tackle box needs
. Mine is a nice Kent Frog.
Ted Lund is the new editor of
Bonnier's Salt Water Sportsman Magazine
.
Unintentionally Hilarious Headline of the Week:
'ACCIDENTAL' CHUB EASES A COLD NIGHT
.
The Gloucester Maritime Heritage Center is asking for help buidling a gallery to honor shoreside industries that
supported local fishing fleets
.
The Mother Earth News
gives you tips on
how to become a fishing guide
.
This Week in Know Your New Zealand Fish:
The Trumpeter
.
The Murray State News
informs us that
lure making is a lifelong hobby
.
Berkley/Pure Fishing guru Tom Bedell will be the
commencement speaker at Buena Vista University
.
From the "I Give Up" File: Farming & Water Interests seek to target striped bass so they can
suck more water out of the delta region
.
Bad fishing movie "Bait Shop" cannot be saved, even by
professional anglers as consultants and extras
.
The Argus Leader
declares that we
should not believe the hype
on some fishing products.
Great combos in world history: Bird and McHale. Dolce and Gabbana. Martin and Lewis. And now,
Larry Cupper's Country Station and Tackle Shop in Broussard
.
Come on in and meet the
Ayatollah of the Fishing Hole-ah
.
Apparently, anglers go a little overboard when it comes to
fish of the order Siluriformes
.
The Fon Du Lac Reporter
covers the
annual spearing harvest
.
Foster's Daily Democrat
argues for, but I don't think there is ever a
good time for barracudas
. Hey, I saw
Finding Nemo
...
The latest rage:
fly fishing film tours
.
Lure maker Mark Nichols of D.O.A. Lures
is still garnering national press
.
Finishing with a Flourish
: Pamela Marvin--widow of
The Dirty Dozen
star Lee Marvin--still keeps his
fishing gear along with his Oscar
.
-- Dr. Todd