Bobby Knight gets to 900 wins and then quits to go fishing...monster sturgeon tows kayak fisherman for 90 minutes...Gary Loomis wins big outdoor award...Bill Lewis gets profiled...centre-pin reels are all the rage...how to trotline...the Kiwis love their Jack Mackerals...Charlie Campbell, Buck Perry, Nick Creme, and Virgil Ward are inducted into the Bass Fishing Hall-of-Fame...Elmira angler fishes in his aquarium when he can't hit the local water...Paris Hilton loves to fish...it must be THE NEWS OF THE WEEK!
The Big Lead
: Hall-of-fame basketball coach
Bobby Knight retires abruptly
...to go bass fishing?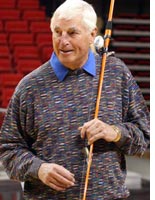 Clint Thomsen
goes ice fishing
and discovers it warms his soul.
Monster sturgeon
tows kayak-fisherman
for 90 minutes across the bay.
A cozy shanty makes for
good fishing for all
.
Bryson Stout puts on
his sailfish repellant
...again.
NFLCC Member gets called to appraise fishing tackle at the Thomas Edison Museum,
and gets a bit of a surprise
...
The Hudson Star Observer
profiles Todd Hess,
muskie hunter
.
Gary Loomis wins the
2008 Russ Mohney Outdoor Recreation Stewardship Award
.
Matt Williams profiles the late, great
Bill Lewis and his Rat-L-Trap lures
.
The In-Fisherman
outlines
color choices for maximum walleye fishing
.
Angry Vermont fishermen vent over
new live bait fishing regulations
.
The Detroit Free Press
alerts us to the
joys of Centre-pin reels
.
The American Sportfishing Association (formerly the American Fishing Tackle Manufacturer's Association)
celebrates its 75th anniversary
.
The Nigara Gazette
finds a
use for top-water fishing lures
.
The Mother Earth News
gives detailed instructions on
how to run a trotline
. For those of you who are into that kind of thing.
James Philips learns about the
high price of fishing reels
.
This week in Know Your New Zealand Fish:
the Yellowtail (Jack Mackeral)
.
Everyone remembers their first time...
catching a fish
.
Charlie Campbell, Buck Perry, Nick Creme, and Virgil Ward, pioneer TV fishing host, will be inducted in the
Bass Fishing Hall-of-Fame
.
Founder of D.O.A. Lures
gets hooked on redfish
.
The Bemidji Pioneer
declares jigging spoons
are no longer just for walleyes.
Sportfishing Magazine
alerts us to the
"one lure" fishing tournament
.
Dogfish tournament won by
13-year old angler
.
Osakis (MN) angler catches
two 9+ pound walleyes while ice fishing
. You may now gently weep. Additionally, you also know what those neat Montague Osakis trade reels are named after.
Crazed Elmira fisherman
fishes in aquarium in his living room
when he can't hit the water.
Finishing With A Flourish
: Paris Hilton: She can't act. She can't sing. She can't dance. But at least she
practices catch-and-release
.
-- Dr. Todd