The Friday Funhouse
Video of the Week
The perils of fishing while on a date...
Things I Would Buy If I Could Afford Them
Heddon Punkinseeds are the rage this week; here's a
box for a 40XSK
that is already well over $400.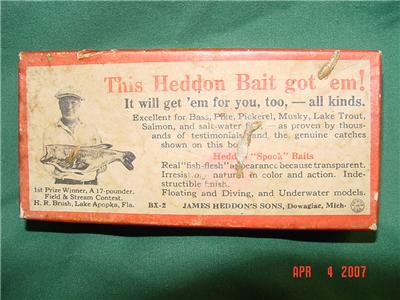 Winchester mania is still in full force, as evidenced by
this bait tin
.

Nice to see Buck Perry items getting some interest, like this
huge lot of Spoon Plugs
.

The reel of the week is clearly this
B.C. Milam #5 Kentucky
. Don't get much rarer than this one!
This
Ed. Vom Hofe 4/0 Model 423 Reel
is a peach.
This
Keeling Musky Expert minnow
would go nicely in any Keeling display.
Nothing nicer than an early
Raised Pillar Pflueger Summit
.

Worst trade I ever made was trading off a
Yellow Shore Minnow Wood Punkinseed
just like this one.

Ambassadeur collectors are right behind Winchester guys in their utter and complete devotion to their brand, as evidenced by this
Black 5000 Record
.
Many high-end bamboo fly rods end up overseas; it appears that this
Garrison #230
owned by a Japanese seller may make it back to America.

Arbogast collectors must be salivating over this
rare salesman's sample
.
Who doesn't love a
Chippewa
?

A tough
Miller's Spinner in the box
is a great yard sale find.
This nifty
Wright & McGill Bass Bug
assortment doesn't show up every day.
That's it for this week. Be nice to each other, and yourself!
-- Dr. Todd