The Spring Activated Coil Fishing Rod
by Doug Bucha
At the recent Niles Riverfest, I was able to photograph some of Ric Ladonski's collection of spring rods. Some people who stopped by thought these rods were designed for ice fishing. The truth is, the rods were designed to be broken down into two parts so they could be stored in ones tackle box for easy transport. The concept behind the coil was to make up for the rod not having any length to it. Believe it or not, the rod does have a good action when playing a big fish. They were popular from the 1920s trough the '50s.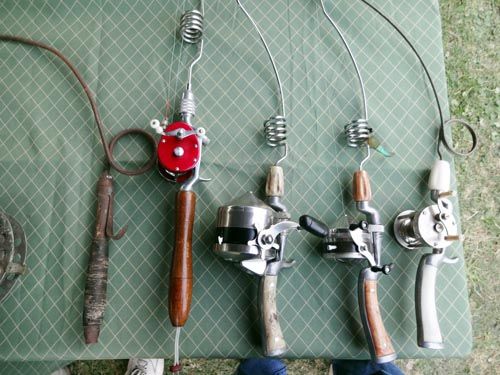 Photo of Harold Dickert and Ric Ladonski discussing some of Ric's Spring Rods.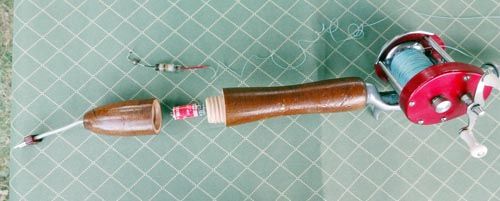 The most interesting of Ric's Spring Rods. Electric ???? We can not figure it out either.
Maybe someone one on the blog can? If anyone has an answer they can email me at dbucha AT att DOT net
-- Doug Bucha
UPDATE
The following was sent in by reader Mike of Dayton and illuminates a bit more on the Spring Coil Rod:
I don't know if you ever get to the Friendship, In. Flea Market they have twice a year or not. But I went there twice a year every year for about 3 years. (That was about 4 years ago.) And every year there was a younger guy there selling spring rods.
Anyways the story he told me was his grandfather was the guy who invented spring rods or came up with the ideal or something like that. Anyways his grandfather had the patent on them. When his grandfather passed away none of the relation wanted to take over the business. So when he (the guys grandson, or maybe it was a great grandson) got old enough and got some money ahead he took over the rights for the spring rods and had them re-produced by the same company his grandfather used years ago. Then he bought a big ol' RV and traveled all over the country selling his grandpa's spring rods at flea markets.
I knew about them as a friend of mine collected spring rods. My friend had one from England that came with 3 different spring rods and 1 handle. There was a light, medium, and heavy.
Anyways the guys grandson went into his RV and took out an old looking spring rod that was what he claimed to be his grandfathers first spring rod and he put it next to one of his and everything was the same! I asked him how someone could tell the difference from the new ones and old ones? He said they can't they are one and the same.
So when ever I see one for sale I always try to pass this info on as it might be a new spring rod and not an old one.
Thanks Mike!