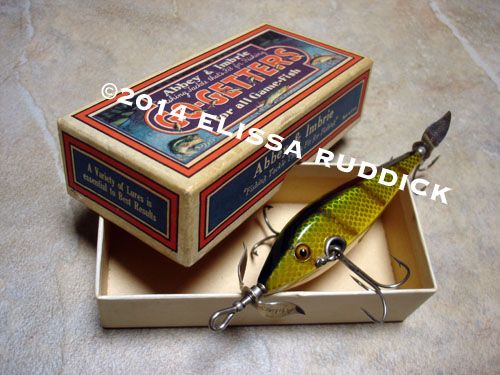 Although this famous New York company never actually produced their own fishing tackle, Abbey & Imbrie was a very well known brand of fishing tackle from 1875 until they were bought by Horrocks-Ibbotson in 1930.
Many fishing tackle manufacturers produced lures for A & I, as they are commonly referred to, including major tackle companies such as James Heddon and Sons. There is absolutely no question that the A & I lure in this photo was made by the Heddon factory. This circa 1920's wooden minnow is Heddon's 0 series minnow in their "9L" Yellow Perch Scale color pattern, but what makes this minnow uniquely A & I, is that Heddon did not produce their 0 minnows in the Yellow Perch Scale color pattern for themselves, and of course the front and rear props are stamped with "Abbey Imbrie" instead of "Heddon's Dowagiac". Other than those two unique characteristics, the lure possesses the same quality components and workmanship that Heddon was very well known for.
So whether you say this lovely lure is A & I or say it's Heddon, it certainly meets the criteria that is printed on the two piece cardboard A & I "GO-GETTERS" box, "Fishing Tackle That's Fit for Fishing".
If you have any questions/comments, Elissa Ruddick can be reached at elissaruddick AT aol DOT com.
-- Elissa Ruddick