We tend to think of the Phantom Minnow, those cloth baits so popular during the Victorian era in Europe, as a strictly British fishing lure. But they had a following here in America, as evidenced by this short exchange in the July 1917
Recreation
magazine.
Phantom Minnows for Black Bass
At various times I have seen printed mention of a lure called the "phantom minnow," and 1 believe it is used to a limited extent in this country, although being an English invention and of English manufacture. May I ask what it is like, and if a good black bass lure, for river fishing?
-- N.J. T. K. Mooney
The accompanying illustration shows three styles of phantom minnows. In England, where we believe the design originated, they are used for pike, which accounts in part for the superabundance of hooks. For use in New Jersey, to comply with the law you would have to remove all but three single hooks. We have found the model shown in the center, when fitted with single hooks, a very good lure for the small-mouth black bass of the Delaware River, in fact better than most baits. As the minnow spins in the current of the rift, or in reeling it in in quiet water, an extra swivel should be used. Still further, you should obtain a pair of the lures, made to spin in opposite directions, and alternate their use, to prevent twisting the line too much in either direction. The best color is that in imitation of the shiner minnow.— Ed.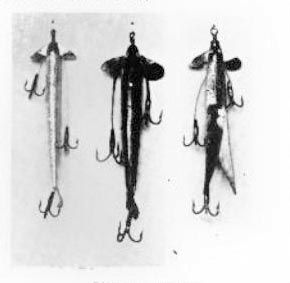 As an aside, when I first started collecting the man who got my dad and I into vintage lures had a lovely Phantom Minnow collection, all of which were found at estate sales and antique stores in Northern Wisconsin. So we know at least a few people were fishing Phantom Minnows.
-- Dr. Todd