As I have been working on
designing some bamboo and glass fly rods
with Dr. Tim O'Brien, son of Tycoon tackle founder and IGFA Hall-of-Fame angler Frank O'Brien, I thought I would share a little article of interest to Tycoon history.
It's from a column entitled "It Costs Big to Go Fishing with a Tycoon" by
Miami News
sportswriter Jim Hardie and is dated January 13, 1963. It's a fascinating look at the company at the height of its powers.
"Tycoon/Fin-Nor is the Rolls-Royce of the fishing tackle industry," Hardie began. "A large (12/0) Fin-Nor reel sells for $645. A matching rod is $235. A spool of line for the reel will cost you $78."
This period in Tycoon history saw the company as part of the Southern Tackle Distributors umbrella, one of seven tackle firms owned by this large distributor. Just a few months before the article came out, Charlie Dunn Jr. had taken over from his father as president of Southern, and thus head of Tycoon/Fin-Nor as well.
The younger Dunn noted he was "interested in product improvement, and research and development of new products." History tells us he worked with noted tackle designer (and fellow boat racer) Gar Wood, Jr. in designing and building the Tycoon/Fin-Nor Wedding Cake and Spinning reels, considered classics of their kind.
If you wondered why their tackle was so pricey, it was because as Dunn noted, "our products are hand-made out of expensive materials." For example, just the spool from a Tycoon/Fin-Nor reel was machined from a 16-pound piece of bar aluminum, of which fourteen pounds went to waste at the cost of nearly $1 a pound at the time. And that was just the spool!
The company was proud of its history. As Hardie wrote:
The history of the Fin-Nor reel reads like an adventure story. It was invented in 1934 by a machinist named Fred Grieten. He worked at the Finlay-Norwood Machine Shop, hence the name -- Fin-Nor.
The second Fin-Nor ever made is now a show piece at Southern Tackle. It cost $1000 to make, and works as well today as it did back in 1934. During its first two years of use, the reel accounted for more than 13,000 pounds of fish caught. During this time it was used to land more than 40 fish weighing over 300 pounds each.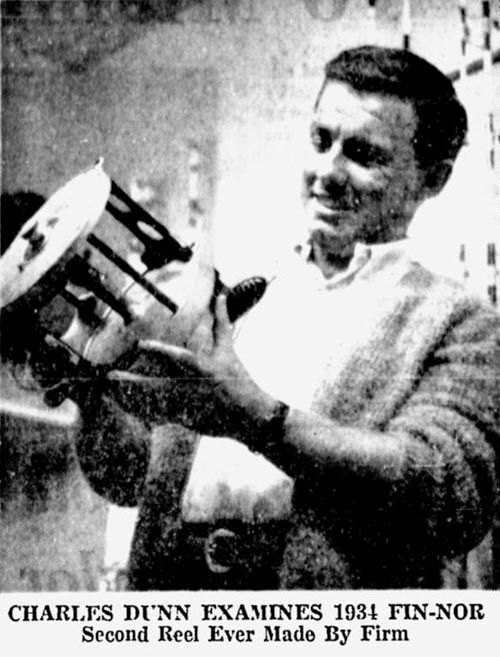 Of course, anyone interested in Fin-Nor history should purchase a copy of Bruce Matthews and Ed Pritchard's
Fin-Nor: The Legacy Years
and, of course, Tim O'Brien's
The Tycoon Tackle Story
. Both are exceptional histories.
And the neat thing is
Tycoon is alive and well
. Tim O'Brien tells me that a deal is in the works that will match up the new Tycoon rods with one of the most legendary names in all of saltwater reel history -- but he's not at liberty yet to tell us who it is! Knowing Tycoon history, it will be a match made in heaven. When I find out, I'll be sure to post it here.
-- Dr. Todd