A question I'm often asked is when nylon fishing line was first used. It's been a matter of speculation for some time, but we know it was offered for sale as early as 1939.
Well, I can go one better today. I can actually show you the first fish ever caught using nylon line.
The outstanding publication
The Sporting Goods Dealer
ran a retrospective article in the July 1961 issue, showing what was happening in the sporting world 25 years before. They then ran the following article and picture.
Bobby Crandall, son of Julian T. Crandall, secretary-treasurer, Ashaway Line & Twine Mfg. Co., made news as the first angler ever to catch a fish on a line made of glass. Ashaway craftsmen had painstakingly fabricated the line from threads of fibrous glass. The youngster's catch was a land-locked salmon taken from Sebago Lake in Maine. (Today, Bobby Crandall is L.R. Crandall, secretary-treasurer of Ashaway; his father is president…and a great angler!)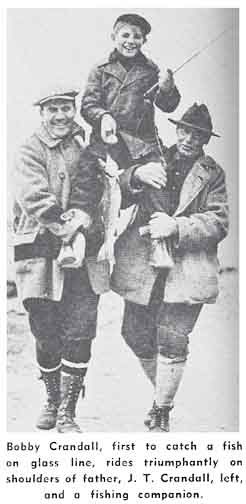 There you have it. The first nylon line was made and used in June, 1936.
-- Dr. Todd