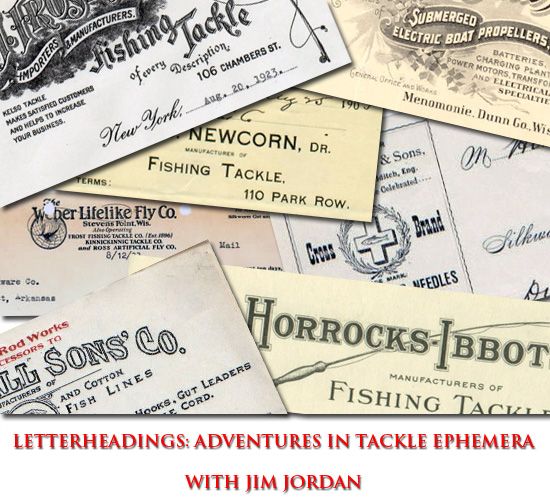 This weeks feature is an advertising envelope from Shoff Fishing Tackle Co. The envelope is postmarked Evansville Ind. Oct. 10 ,1932. It is self addressed and has pencil notations of # 706 ,707 and 15 cents. Perhaps it was sent by a Shoff Representative back the company.The envelope shows a small illustration of one of the companies large line of flies.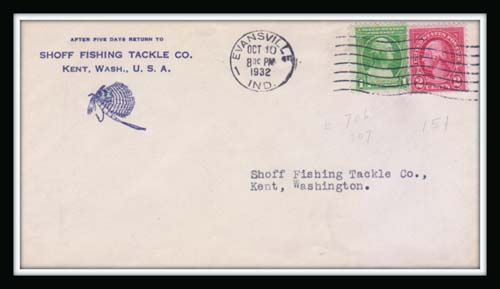 Clarence Henry Shoff was born April 30, 1894 in Kent ,Washington. After graduating from high school, Clarence attended Washington State College for one year. After leaving college, Shoff worked at the Navy Yard as a ship joiner. When the United States entered the first World War, Clarence enlisted in the Naval Aviation Service.
In 1922 Shoff began manufacturing fishing tackle in Kent, Washington. His Company was known for selling high quality fly making materials and flies. Early on Shoff traveled throughout Washington and California fishing and selling his flies at fishing camps and along river banks. Shoff was known to make custom flies to order for individual anglers as well as for other tackle dealers. In 1934 Shoff received a patent for a method of making a fish bait and the product thereof. This patent was essentially a blueprint for Shoff's Hair Mouse.
As the company grew Shoff's wares were sold by large Hardware and Sporting Goods houses and through catalog sales. Some of Shoff's mice have turned up on cards marked Western Auto and Sears Roebuck .
Sometime around 1950 Clarence Shoff partnered with Dick Snyder to make fibre glass fishing rod blanks in the back of Shoff's Kent, Washington Sporting goods store. They were said to be the first to make fibreglass fishing rod blanks. This partnership was the start of the famed Lamiglas Company. Lamiglas played an important role in modern fishing rod history and at one time employed such rod making icons Don Green and Gary Loomis. Green formed Grizzly rods which later became Fenwick. After leaving Fenwick Green created Sage. Gary Loomis started Loomis composites/ G. Loomis.
Best regards,
Jim Jordan