Over the course of the next year, we'll be detailing the history of 52 companies that sold branded fishing tackle. 52 trade houses in 52 weeks -- some obscure, some famous, and all available exclusively here on the Fishing for History Blog! If you have any items from the week's entry you'd like to share with us, please send it my way and I'll make sure it makes it on the blog.
For a discussion of what exactly trade tackle is,
Click Here
. Enjoy the 52 for 52!
o - o - o - o - o - o - o - o - o - o - o - o - o - o
Trade House Tackle, Part 43:
Eckerd Drug Stores
The Fishing Tackle of Eckerd Drug Company
Today in 52 for 52 we feature a company that sold a ton of fishing tackle that I've never seen a marked piece of tackle from--even though I know they sold them. The company comes from one of my favorite categories of trade house tackle: drug stores.
The firm in question is the Eckerd Drug Store chain. It was founded in 1898 by J. Milton Eckerd and Z. Tatom in Erie, Pennsylvania. Like many apothecary shops, it was a one-stop shop for its customers, selling everything from aspirin to fish hooks.
Eckerd's Drugs expanded to Delaware in 1912. In the 1930s, under the leadership of son Jack Eckerd, the company expanded greatly, and after World War II they began to open shops all across Florida and later the South as a whole. At its height, Eckerd Drugs had 2800 stores in 20 states and did $13.1 billion in business. Yes--that's billion with a "B."
Jack Eckerd, the man behind the drug store.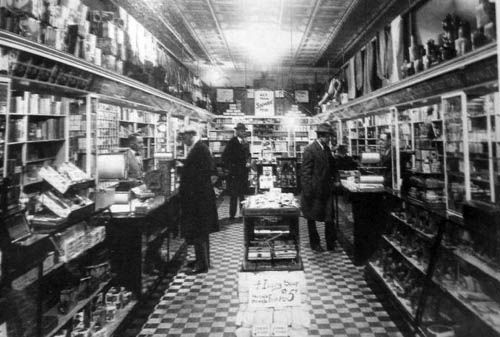 Jack Eckerd's first new chain store in Jamestown, NY in 1937.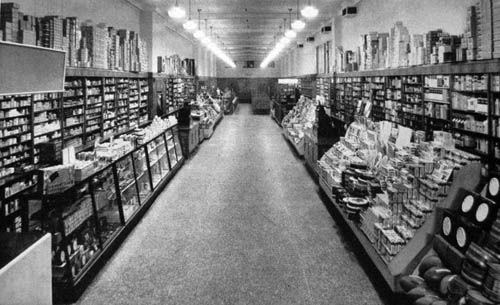 Typical 1950s Eckerd Drug in Columbia, SC.
If Eckerd always carried a little fishing tackle, it shocked the entire industry in 1973 when the firm went "all-in" in the tackle market. With 165 stores in just Florida alone, the company launched what it called the "Eckerd Tackle Center" in every store--a full 21-foot display chock full of tackle from top to bottom. It vaulted overnight Eckerd into one of the major players in the tackle field. In just a year, tackle sales were making up 2.5% of total revenue in Florida stores--which doesn't seem like much until you realize just how many kinds of items a store like this carried.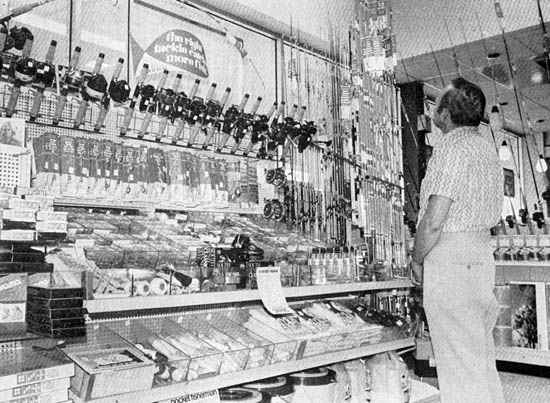 Eckerd's Tackle Center
They even offered a free booklet by the "Eckerd Angling Advisory Staff" to prospective buyers. Using the huge marketing machine behind the company, they advertised on tv, radio, and in newspapers and magazines. They also pushed tackle, particularly to tourists looking to buy a rig for saltwater fishing. One could argue by the mid-1970s no national chain was moving more saltwater tackle than Eckerd's Drugs.
Many Tackle Centers were near the coffee shop.
Their private label was the "Super" brand of tackle. As a 1973 article in
The Fishing Tackle Trade News
reported, "Eckerd's own private brand Super Rods, built to rigid specifications, are heavily advertised and guaranteed, 'If it breaks, Jack Eckerd Drugs will give you a new one.' So states the ad commercials. A Super Reel is now in the works."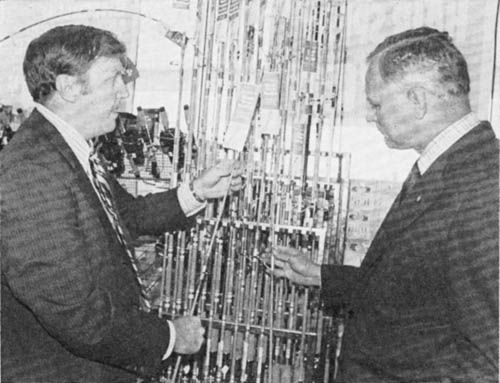 Eckerd President Harry Roberts (right) inspect an Eckerd's Super Rod.
The company continued selling fishing tackle throughout the 1990s. In 1996, the chain merged with J.C. Penney, and all the Penney's brands (Thrift, Kerr, Fay's, and Rite Aid) were rebranded as Eckerd's Drug Stores. This gave the firm 2800 stores nationwide, making it the second largest drug store chain. In 2004, after losing a great deal of money, Penney's sold all East Coast Eckerd's to Jean Coutu Groups, while the remaining 1200 stores were sold to CVS Pharmacy and their name changed. in 2006, Rite Aid purchased Jean Coutu and rebranded all Eckerd stores, bringing an end to the 109-year old brand.
Although in the tackle business as a force for only about 25 years, Eckerd's sold a ton of fishing tackle and are worth remembering for their efforts to serve the American angler.
-- Dr. Todd