Over the course of the next year, we'll be detailing the history of 52 companies that sold branded fishing tackle. 52 trade houses in 52 weeks -- some obscure, some famous, and all available exclusively here on the Fishing for History Blog! If you have any items from the week's entry you'd like to share with us, please send it my way and I'll make sure it makes it on the blog.
For a discussion of what exactly trade tackle is,
Click Here
. Enjoy the 52 for 52!
o - o - o - o - o - o - o - o - o - o - o - o - o - o
Trade House Tackle, Part 41:
Finch & Hahn of Schenectady, New York
Today's feature is a great old department store--my favorite kind of trade tackle. Finch & Hahn of 504 State Street in Schenectady, New York were an old and established full-service department store that served the area for a number of decades.
The firm was founded in 1895 by William C. Finch and William Hahn, two prominent local dry goods men, and by 1906 the firm was a rip-roaring success, operating as both a wholesale and retail establishment. There are literally hundreds of ads from the company in the local papers, some of which cover an entire page.
The company sold fishing tackle from the earliest days and often featured it in seasonal advertising, especially in the spring when fishing season opened. Below is a nifty 1915 ad from
The Schenectady Gazette
and one from 1918.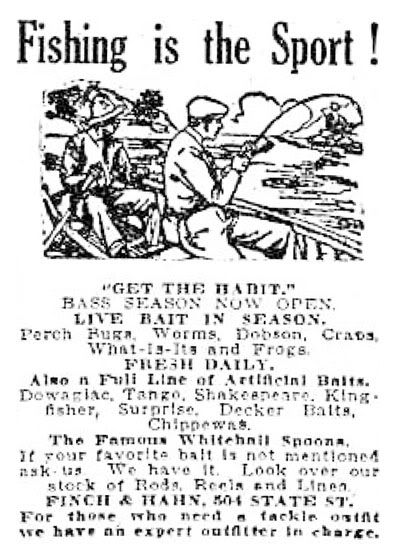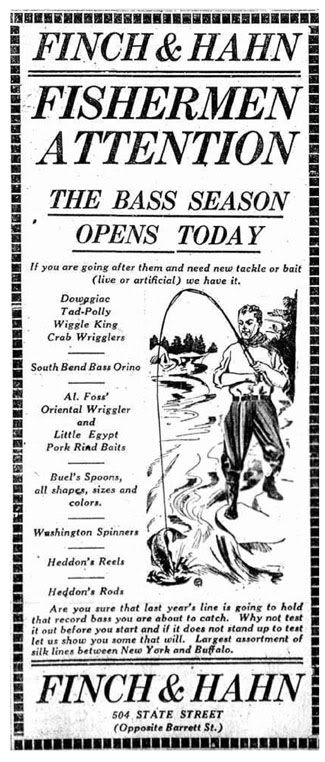 The era of Finch & Hahn fishing tackle is easy to date, because in January 1926 the firm announced it was dropping its entire line of sporting goods, including fishing tackle. Competition from the numerous post-World War I start ups proved to be too much in this field.
The only piece of Finch & Hahn fishing tackle I've found is this nifty little line spool. My friend John Etchieson writes of this spool that "My guess is late teens to early '20s based on the interlocking letters trade mark.and the thread spool type spool Cortland used for this house brand."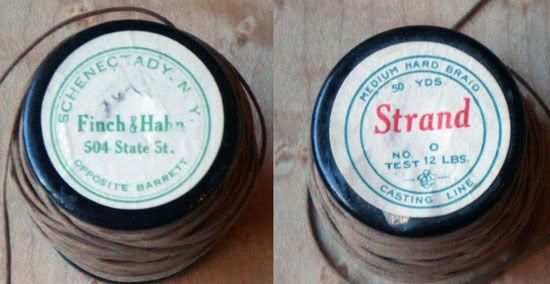 Strand was the firm's trade name.
The company was out of business in 1933, a victim of the Great Depression.
Such Department Store trade tackle, to me, is some of the neatest available. I would love to see any examples you might have out there!
-- Dr. Todd