Over the course of the next year, we'll be detailing the history of 52 companies that sold branded fishing tackle. 52 trade houses in 52 weeks -- some obscure, some famous, and all available exclusively here on the Fishing for History Blog! If you have any items from the week's entry you'd like to share with us, please send it my way and I'll make sure it makes it on the blog.
For a discussion of what exactly trade tackle is,
Click Here
. Enjoy the 52 for 52!
o - o - o - o - o - o - o - o - o - o - o - o - o - o
Trade House Tackle, Part 40:
Kassnar Imports, Inc.
Kassnar is a name far better known in the hunting world than the fishing world, but this Harrisburg, Pennsylvania based importer sold a ton of fishing tackle under its own name.
The man behind the company was Michael Kassner, a very knowledgeable gun man who up until a year ago was still in business as the owner of Charles Daly Inc. I can't find a hard start date, but it was being referenced as early as 1975 and likely in business several years before this.
Companies like Kassnar are easy to overlook, but they played a massive role in the transformation of American sporting goods in the 1960s and 1970s. Kassnar is remembered today for importing Spanish and other European and Asian guns sold at low prices (but often offering decent value for the cost).
The same was true about Kassnar fishing tackle. They imported a lot of fishing tackle, primarily from Asia, including a lot of Japanese reels -- baitcasters, spinning, and fly reels. I own a pair of Pflueger Medalist clones made by Daiwa and they are fine fishing reels, although not as nice as the original (it must be noted that by the time Kassnar imported these in the mid-1970s, Pflueger had stopped selling the popular Medalist in many sizes).
A Kassnar ultra light from Japan.
A standard Japanese trade reel.
An inexpensive bait caster from Japan.
Kassnar also sold a ton of marked terminal tackle. Below are round metal hook tins and snelled hook packets, both sold in dealer boxes.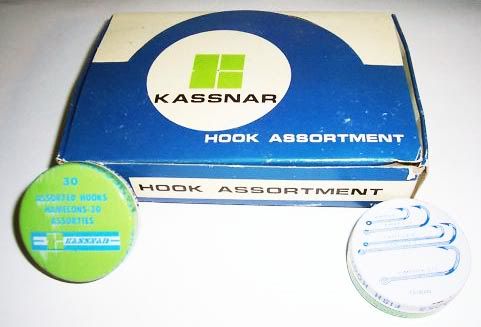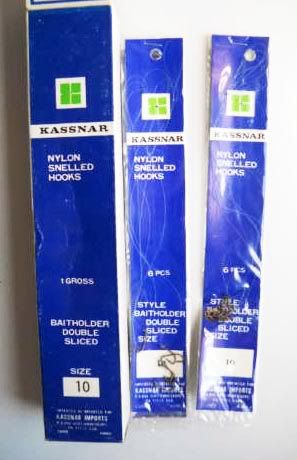 Kassnar was a popular alternative for budget-conscience shoppers and sold a lot of serviceable tackle in an era when much of the cheaper imported tackle was virtually unusable.
They went out of business in April, 1989.
-- Dr. Todd