Today we have a wonderful treat -- a detailed look at a European tackle auction.
Chiswick Blues
by Espen Olav Sjaastad
Angling Auctions' October sale of fishing tackle and related items at the Chiswick Town Hall is worth a visit under any circumstance. Even better this time with London in the midst of a heat wave, temperatures reaching 29 Centigrade and shorts and T-shirts adequate even into the small hours. Summer in the city? In Northern Europe we don't complain, especially when it's supposed to be Fall.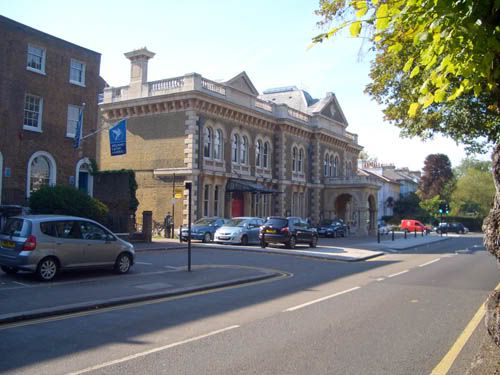 Friday morning, I'm sitting with coffee and auction catalog at a crowded outdoor café on Chiswick High Road when a lady plops down into the seat across from me. Her dog – a riesenschnauzer? – is a little worn around the edges but in otherwise fair condition. The lady, fortyish and blond in a very English way, probably rates an excellent plus but her enormous shades make the assessment tricky. She's a real estate agent, and the people who move to Chiswick, she says, are mainly people downgrading from posh areas of London such as Chelsea or Mayfair. People who need to free up some funds or who are looking for more space. The real estate prices she quotes – £450,000 to £650.000 for a two-room, a million and a quarter or more for a small house – make downgrading seem like a very relative concept. "All my clients are at least a hundred years old," she says. I suppose it represents an odd form of gentrification and explains why Chiswick most of the time seems like such a peaceful little area of London.
The viewing starts early Friday afternoon. This is the best opportunity to spend some quality time with the tackle. Just a handful of people around and hundreds of reels to play with. I've brought my camera, and in an attempt to get better shots, I start moving some of the rarest examples around the room. This generates a brief discussion among the staff about the trustworthiness of Scandinavians, but I manage to take my pictures without slipping any reels into my pockets.
After the viewing, I walk west for about 15 minutes until I reach Kew Bridge, then turn south along the Thames to the inviting string of pubs on Strand on the Green. With the sun blasting down, the outdoor seating is woefully inadequate, so people are leaning against walls and balustrades with pint glasses in hand.
The day of the auction is Saturday, October 1, and it's the hottest October day ever recorded in England. So if the crowd of bidders is sweating inside the Grand Hall, it's not just because of the neurosis that comes with trying to spend absurd amounts of money on stuff designed to kill fish.
That crowd is the smallest I've seen at Angling Auctions, so maybe some of the normal participants have chosen the seaside instead. The impending bankruptcy of a handful of European Union countries, and apprehension about the long-term implications, may also have kept a few people away, including some dealers. In consequence, you can pick up some nice deals on the lower-end stuff. Some of the prices paid for rods, in particular, turn out to be laughable. "Come on, ladies and gentlemen, I can't give it away," pleads auctioneer Neil Freeman. Unfortunately, I normally buy rods only to fish, so I don't travel to Chiswick with a suitable tube for old bamboo. After seeing what transpired this time, however, that might change.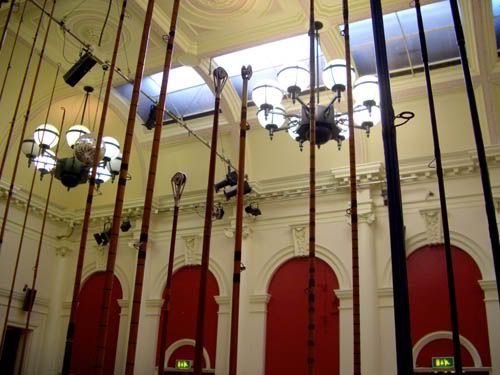 Never mind. Angling Auctions is mainly about reels. The stuff in the low to middle ranges generally goes below or within estimate this time. But heat waves, imploding Mediterranean economies, and small crowds won't worry Neil Freeman too much as long as he can offer some exceptional reels and as long as the big hitters show up, in person or by phone. Here's a non-random selection of lot numbers and hammer prices in pounds sterling (excluding 15 percent premium), with low and high estimates in brackets:
30 EVH Restigouche 6/0 1300 (1000-1500)
50 Hardy Bougle 3.75" 2800 (1500-2000)
100 Hardy 1896 Houghton brass Perfect 2600 (1800-2600)
150 Allcock Aerial Roller Back 4" 2500 (2000-3000)
180 EVH Restigouche 4/0 1800 (1000-1500)
This 4/0 EVH is a peach, with drag adjuster on the headplate. All the three Restigouches on offer (see also one below) look to me to have filed or altered feet, so I was hoping at least one of them might go cheapish. Nothing doing.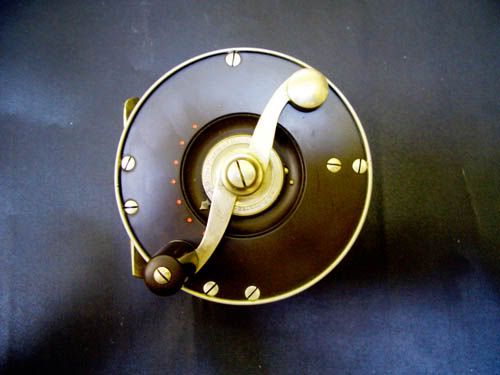 200 Allcock Aerial Roller Back 5" 3400 (3000-4000)
250 Ustonson & Peters 3" folding handle 3800 (2500-3500)
270 Hardy Silex Rex multiplier 2600 (1600-2400)
I think Phil White once described the Silex Rex as "Supreme-looking," and in many respects the Rex is obviously a copy. It looks OK, and has the typical Hardy metals, but it's not a reel I would want to fish. Only 94 were produced, which is why it now commands such ridiculously high prices.
275 Otto Zwarg 4/0 salmon 1500 (1200-1600)
280 Hardy Bougle 3" ca 1980 1800 (1600-2400)
281 A. Evatt folding handle ca 1845 1650 (1300-1800)
298 Hardy raised pillar 4" brass winch 3600 (2500-3500)
300 Hardy brass Perfect 3" ca 1891 13000 (5000-8000)
I don't remember if lot 300 is when Freeman shouts, "Keep going, keep going, you're into the swing of things now," but that's what the bidders do. Is £13,000 a reasonable price? Who can say?
As far as I am concerned, lots 301 to 399 mean it's time for lunch. Cased fish are, in my opinion, best admired from a considerable distance. And while I love angling literature, I buy books to read much the same way that I buy rods to fish. So while Freeman gets rid of the dead fish and his friend David runs through the books, I walk across the green and slide a couple of tapas and a beer down my throat. I'm back in time for:
400 Hardy Pomeroy Tarpon Reel 4800 (2500-3500)
It may not look like much in the pictures, but the quality, the weight, its sheer brassness… this is the type of reel that seems to vindicate an addiction to old reels. It's nice to think that Hardy Brothers, in the old days, went to such lengths to indulge the whims and obsessions of people like Captain Pomeroy.
401 Hardy 3.5" Fly and Spinning 2200 (1000-1500)
402 Hardy 3.75" Ferris salmon 2700 (700-1000)
480 Hardy Super Silex Multiplier small 5000 (2000-3000)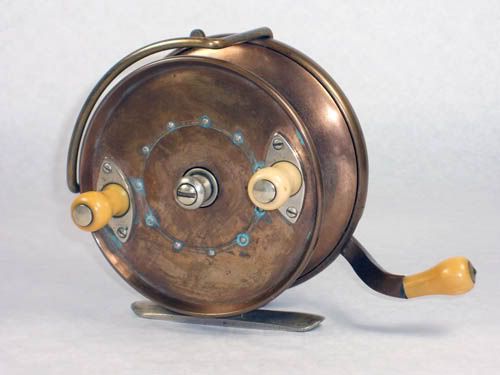 Lot 480, in excellent condition, is one of only nine Super Silex multipliers made in the 2&5/8" size. The Hardy platewind multipliers – the Silex, the Super Silex, the St. George, and the Tournament Casting Reel – are wonderfully eccentric reels. As far as I know, nobody else made reels of this type. Like Dr. Todd says, things I would buy if only I could afford them. This one climbed above my pay grade in no time at all.
500 EVH Restigouche 6/0 1400 (900-1300)
510 William Blacker 2&1/8" ca 1850 2700 (1500-2500)
511 Hardy Perfect 2.5" wide drum 1900 (900-1300)
547 Hardy Ocean 6" wood 1400 (700-1000)
550 Hardy Birmingham 2.5" nickel s. 6000 (1500-2500)
580 Hardy XLM Jock Scott 1400 (1300-1800)
The XLM is the tournament version of the Jock Scott, in clear aluminum finish. It's pretty rare, and comes in a few different versions, but quite a number of these have been sold over last ten years or so. This one has a cylindrical brass brake adjuster on the tailplate and the brass cut-out collar on the headplate, but £1400 still seems like an overbid.
611 Hardy 3.5" Fly/Spinning 2600 (1000-1500)
620 ABU Ambassadeur 6000 black 1200 (400-600)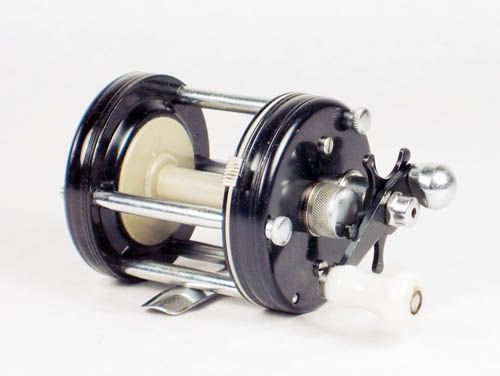 Last time the black 6000 came up for sale at Angling Auctions in 2008, the estimate was the same; but absentee bids meant the room bidding started at £1200, and it eventually sold for £1600 if memory serves. This time, the bidding started at £600. I made sure it reached £1200 before shaking my head, making Freeman a few extra quid. But the phone bidder who beat me still got a pretty good deal.
Towards the end of the auction, everybody gets a bit tired, and Freeman becomes a little bit quicker with the hammer. Lot 634 is a box of ten K. P. Morritt's Intrepid reels, with a 130-180 estimate. Freeman starts the bidding at 60. "One day, they'll be very collectible," he drawls. This gets a laugh from the crowd but no bids. Still, as far as reels are concerned, I counted only two or three passed lots during the auction, which is normal.
So much for the reels. Elsewhere, a Higginsbotham line winder made 1700 (300-400), a George IV fruitwood priest made 1100 (350-550), some creels made good money, and an Allcock bait display made 2000 (500-1000).
Conclusions? No real surprises. In tough times, the big names shine, and in England Hardy is the biggest name. Many of the top lots went a long way beyond the high estimate. The Restigouches also did well, but there are normally just a handful of EVH reels on view in Chiswick. The rare Aerials did well, the more common varieties not so well.
As usual, being hopelessly naïve, I'd bookmarked a few choice lots around which to build my bidding strategy. As usual, I returned home with a couple of nice reels but not the treasures I really wanted. Outnumbered, outgunned, outbid. At least I managed to be the underbidder on some good lots this time. I resolve to return to Chiswick, if not richer then at least more reckless.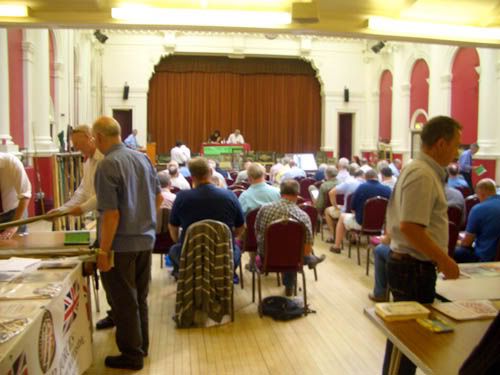 -- Espen