Over the course of the next year, we'll be detailing the history of 52 companies that sold branded fishing tackle. 52 trade houses in 52 weeks -- some obscure, some famous, and all available exclusively here on the Fishing for History Blog! If you have any items from the week's entry you'd like to share with us, please send it my way and I'll make sure it makes it on the blog.
For a discussion of what exactly trade tackle is,
Click Here
. Enjoy the 52 for 52!
o - o - o - o - o - o - o - o - o - o - o - o - o - o
Trade House Tackle, Part 30:
The Fishing Tackle of Weeks-Howe-Emerson Company
Sometimes the mail brings great surprises. My East Coast Surf Reel collecting friend Bill Hoerter recently sent me a little piece of ephemera in the mail as a gift, and it started me on a hunt to track down the history of the interesting tackle trade house that produced it.
The company turned out to be a really interesting West Coast tackle form that gets almost no respect: San Francisco's Weeks-Howe-Emerson Co. of 90 Market Street, the sellers of "WHECO" brand fishing tackle.
The early history of the company is a bit obscure but a 1961 issue of the
Marine Digest
referred to the firm as "the 105-year old ship chandlery firm of Weeks-Howe-Emerson." This would mean the firm was founded in 1856, making it one of the very few pre-Civil War firms still around today in the same business. Another source, a 1943 issue of
The Log
, declared the firm was founded 1893. Of the two, it is likely the second date is correct, although it is possible the firm absorbed another company at some point founded in 1860 and retroactively pre-dated their company founding to this earlier year (much like Pflueger did when it used 1864--the year of the founding of American Needle & Fish Hook, a company that it purchased--instead of the proper date of 1881). Regardless of its actually founding, by the 1940s the company was using the 1856 date in its letterhead and logo (see below).

Two of the major figures in the company's history were Charles K. Howe (1875-1961) and Samuel Weeks (d. 1947). Felton W. Howe was also associated with the firm and is believed to be Charles K.'s son.
The company was around at least as early as 1909, and was a very prominent exhibitor at the Panama-Pacific International Exhibition in San Francisco in 1915. There is a rare photo of the outdoor display put on by W-H-E that includes a very early Old Town Canoe made in Maine.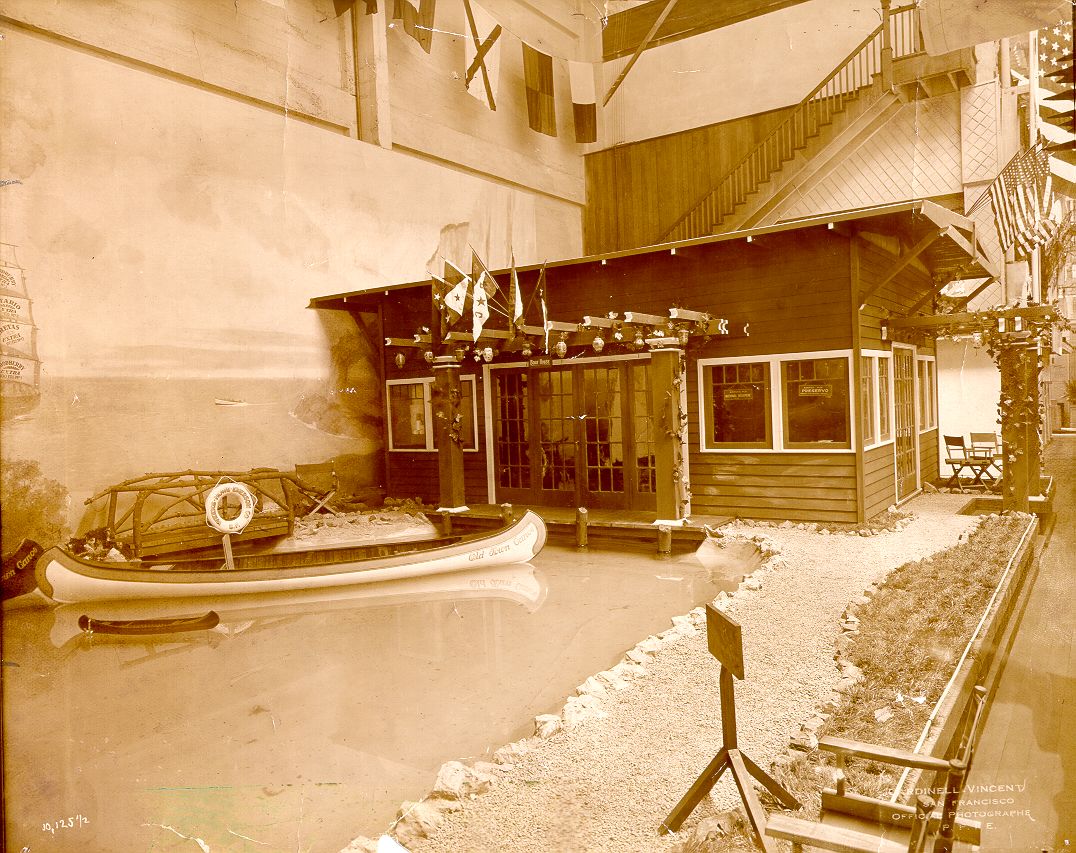 W-H-E was a major wholesaler of all kinds of commercial fishing tackle, but also carried sport fishing tackle as well. They had a lucrative contract in the 1930s to supply the U.S. Navy with manilla rope manufactured in the Philippines.
They were apparently very successful. After World War II they had moved to 255 Mission Street and still were a major wholesaler of fishing tackle. At various times they were official dealers of Caille outboard motors, Old Town Canoes, and Evinrude. They sold branded tackle under the WHECO name but it was mainly terminal tackle, ranging from line spools to hook packets.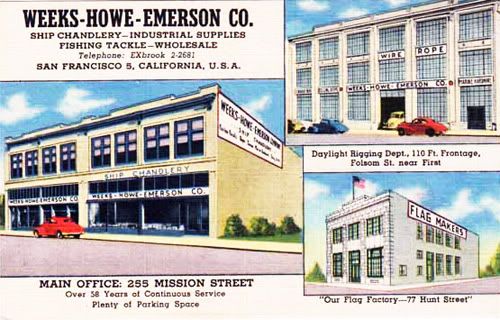 1940s view of the firm.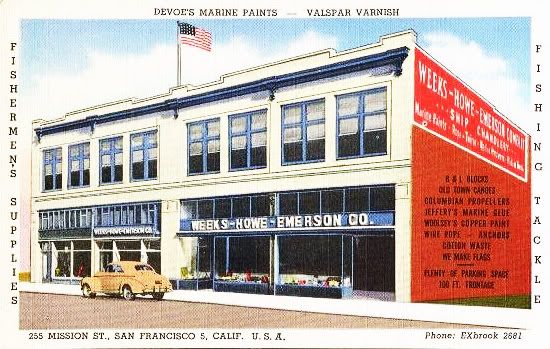 1950s post card of the firm.
The company was one of the largest producer of California tide books;
Shipping Register
noted in 1929 that the company gave away 12,000 copies of its 1929 tide book that year. Here is the 1958 tide table Bill sent me:
In the back the firm noted it was "fishing tackle to the trade only" and represented the following lines: Ocean City, Langley, Mustad, Harnell, South Bend, Heddon, Pflueger, Penn, Hodgman, Zebco, Johnson, Sunset Line & Twine, Ashaway, Rainbeau, Conolon, Great Lakes and Glen L. Evan.
Clearly they were a major purveyor of fishing tackle.
Charles K. Howe's passing in 1961 caused
Pacific Fisherman
to note that W-H-E was a "pioneer San Francisco ship chandlery and marine supply firm." It sold a ton of tackle and owners of WHECO trade pieces are lucky indeed.
-- Dr. Todd