Over the course of the next year, we'll be detailing the history of 52 companies that sold branded fishing tackle. 52 trade houses in 52 weeks -- some obscure, some famous, and all available exclusively here on the Fishing for History Blog! If you have any items from the week's entry you'd like to share with us, please send it my way and I'll make sure it makes it on the blog.
For a discussion of what exactly trade tackle is,
Click Here
. Enjoy the 52 for 52!
o - o - o - o - o - o - o - o - o - o - o - o - o - o
Trade House Tackle, Part 29:
Seattle Marine & Fishing Supply Company
One of the goals of my 52 for 52 series is to try and shed the spotlight on companies that have been largely overlooked. At least when it comes to tackle, I find that West Coast tackle gets the least amount of coverage (and some might say respect) from fishing historians. Yet from the middle of the nineteenth century, a huge number of firms served the burgeoning commercial and sportfishing industries from California to Oregon. Today we will be looking at one such representative firm.
Washington's Seattle Marine & Fishing Supply Company (not to be confused with the Seattle Marine Supply Company, a much older firm that seems to have gone out of business before World War II) is a good example of just such a fishing tackle trade house that is easy to overlook. First, it is located in the Pacific Northwest which is an area with tons of tackle that is often ignored by collectors from the Midwest, East and South. Second, it's still going strong, so the tendency is to think it is a modern company with shallow roots.

Nothing could be further from the truth. The Seattle Marine & Fishing Supply Company (or SeaMar as it is often referred to) was founded on December 30, 1947 by a Mr. Anderson, a University of Washington graduate and former executive of the Seattle wholesale hardware firm of Sunder & d'Evers, who went out of business that same year.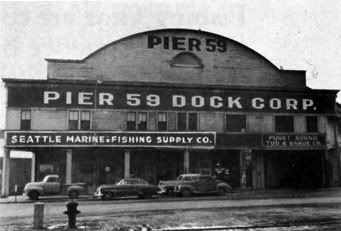 The original Seamar building on the Seattle waterfront.
It was located on the heart of the waterfront district in Seattle until 1975, when it was moved so the city could build the Seattle Public Aquarium. It relocated to Fishermen's Terminal in Ballard into a massive new complex of over 100,000 square feet.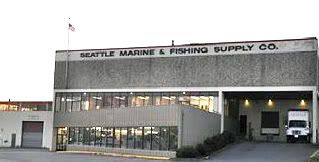 Massive and modern Seamar complex.
The firm was started as a commercial fishing wholesaler, but soon expended its line to include just about everything under the sun. They were prominently mentioned (and advertised) in the major commercial fishing trade magazines, and were involved in several major lawsuits over the years.
They were so successful that Anderson told the trade magazine
Marine Digest
in 1975 that "There has hardly been a lean year." In fact, sales had increased 33% from 1973 to 1974. Seamar's catalog became huge and even today contains just about everything necessary for any kind of nautical excursion, from safety to electrical to engine and pumps. To check out their 2011 catalog
click here
.
There is a lot of marked sportfishing tackle from this firm, and some of it dates to the 1950s. Here is a cool and colorful Sea-Mar brand monofilament line spool dating from around 1965.
Sea-Mar line spool from the 1960s.
Sea-Mar was their most popular trade name, but not their only one. They also used the "Gold Medal" name on certain nets and twine. I am sure they branded a lot more, but I've seen Sea-Mar branded terminal tackle of all kinds, as well as packaged lures.
It's a cool company and I'm happy they are still around doing business. They should be a good reminder that West Coast tackle is worth researching and writing about!
-- Dr. Todd