B.A.S.S. has a new owner...an end to lead tackle?...Gary Loomis is sued by Loomis Inc.?...media falls for bogus shark video...backwoods brookies...man-eaters...Joe Thomas is an all-pro angler...Hidden Lakes...confessions of a tackle junkie...fishing in Finland...and Tasmania...Cornish angler catches weird fish...Harry "Bud" Grant is one of my heroes...it must be THE NEWS OF THE WEEK!
The Big Lead
: B.A.S.S. has a new owner--
Don Logan of Birmingham, Alabama
.
Rapala changes its
executive board
.
An end to
lead fishing tackle
?
Woodland fishing rod maker Gary Loomis is sued...
by G. Loomis, Inc.
?
Media falls for bogus
Jersey shark video
.
Backwoods brookies
are an old-school lesson in angling.
Keith Sutton
on man-eaters
.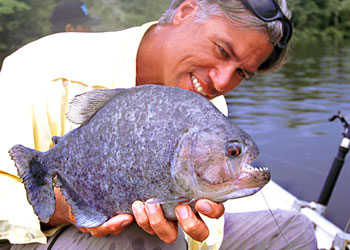 Mille Lacs lake is famous for walleyes, but I can personally attest it has some
big bass too
.
Cleveland Browns Joe Thomas
is a dedicated angler and fishing show host.
The aptly named
Hidden Lakes
are living up to their name.
Confessions of a
tackle junkie
.
Finland's
Helsinki Times
declares
"I caught a fish this big."
Trees, fish, and
worms
...
Tasmania opens its
world-class trout fishing
up to the world.
Cornish angler catches deep sea fish
five miles inland
....
In the catfish world,
ops are tops
.
Finishing with a Flourish
: The Old Ball Coach--
Harry "Bud" Grant
--still fishes the same waters as I do in Northern Wisconsin.
-- Dr. Todd