Man smuggles dead pike to falsely claim ice fishing contest victory...Biggest stingray ever...two NFL players are missing when their fishing boat goes MIA...fishing expo season...Bass Pro and B.A.S.S. combine forces...blowback from the Cheney choice still hitting the AMFF...the Human Fish Face...it must be THE NEWS OF THE WEEK!
Does this look like the face of a man who would smuggle a dead pike in under his shirt in order to win a truck
in an ice fishing contest
?
In one of the most widely publicized stories of the year, we bring you
The Biggest Skate
. Ever.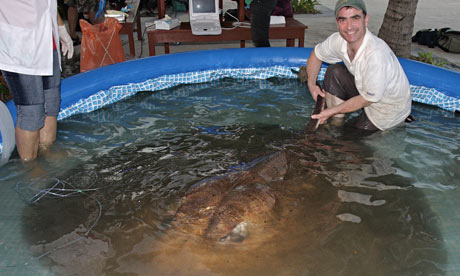 From the Sad News Files: A fishing boat carrying two NFL players
has gone missing
.
The Houston Fishing Show is still successful
after 34 years
.
Not to be outdone, this New York fishing expo is
also a big hit
.
The Patriot Ledger
tells us its all about
the spring trout
.
In New Zealand, confiscated fishing tackle is about to
flood the internet
.
Muskies rule in summer, fall, spring, and even in winter
under the ice
.
From the Meeting of the Giants File: B.A.S.S. and Bass Pro have
officially partnered
.
An interview with Kathy Magers,
retired pro angler
.
The definition of beating a dead horse:
the New York Daily News
and
The Detroit Free Press
pile on the AMFF for asking Dick Cheney to speak.
Angler boats 11 foot 8 inch
Shortfin Mako shark
.
State program shows plenty of big fish
in Northern Michigan
.
The Superior Evening Telegram
reports that a northern pike breaks an
eight-year old boy's heart
. Pikes are such cruel bastards.
The Wisconsin Maritime Museum opines on all things Great Lakes,
including fishing
.
A Sudbury man is
hooked on fly tying
.
Finishing with a Flourish
: From the WTF Files comes the
Human Fish Face
?
-- Dr. Todd