On the opposite side of this wonderfully graphical box, there is a poem that reads, "A FISHERMAN MAY FISH AND A FISHERMAN MAY LIE. WHAT A FISHERMAN CAN'T KETCH A FISHERMAN MAY BUY. MORAL - NO NEED TO LIE OR BUY IF YOU USE KETCHUM'S PATENT FRAME GANG."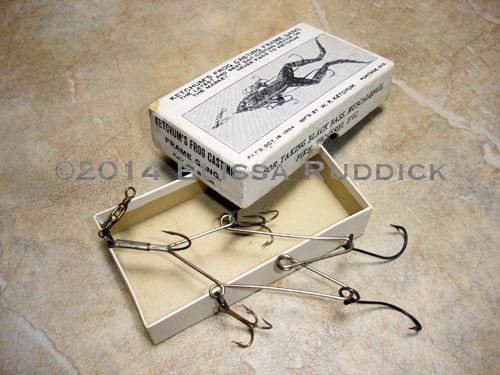 Now that's a cute little jingle, don't you think? Unless of course you happen to be the live frog that is stretched out and hooked on to the steel frame! Patented on Oct. 18, 1904 by Portage, Wisconsin inventor William R. Ketchum, a frog's only hope if he was unlucky enough to be the one who fell victim to being a live injured fish lure, was that he would quickly be chomped in half by a hungry fish with sharp teeth, to hurry and put him out of his misery.
Now, if I can just find a frog to Ketch ... and I really think Ketchum should have invented a frog Ketcher first!
If you have any questions/comments, Elissa Ruddick can be reached at elissaruddick AT aol DOT com.
— Elissa Ruddick