This 1 oz. chunk of colorful fish shaped metal was designed to fish for pike and musky by the Fred Arbogast Company of Akron, Ohio. The BIG TIN LIZ was offered in either standard or weedless configurations, and was regularly offered in the two following colors; Red Side Chub and Silver with Red Head. This 1930 box, often referred to as the "John Field" box due to the photo on top showing John Field holding his 35 lb. musky that he had caught on a BIG TIN LIZ minnow, is one of the scarcest Arbogast boxes to find. The "Big Liz" (1 oz.) had been offered as a choice alongside the "Regular Liz" (5/8 oz.) and the "Baby Liz" (1/2 oz.) before the John Field advertising box came out around or after May of 1930, so it is my opinion that Arbogast was trying to sell more of their 1 oz. sized Tin Liz lures by using the John Field advertising on top of the large size box, as well as their advertisements featuring John Field in sporting magazines beginning in May, 1930.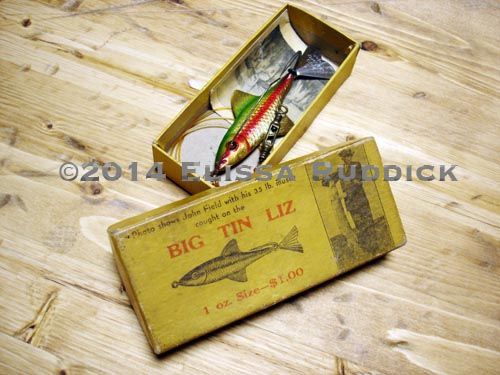 Hmmmmm … they must have had a time machine in order to get the ad completed and off to the magazines, and for the magazine editors to get the ads to the presses before printing their May editions, which I am assuming came out before Mr. Field supposedly caught his musky on May 28th!!!! Well, I guess they could have meant May 28, 1929 … And it's a good thing that the lure in the photo was never cast out into pike or musky waters, as the person who owned it had it rigged all wrong for keeping those toothy fish hooked!
If you have any questions/comments, Elissa Ruddick can be reached at elissaruddick AT aol DOT com.
— Elissa Ruddick