Don't have time to read 50+ fishing and tackle collecting blogs and web sites? Well, let us do it for you! Follow all of the latest news, articles, and stories on
our Whitefishpress Twitter
account! Hint: You don't need to be a member...just bookmark the
Twitter Feed Page
or click on latest links to the right!
The hackle shortage is becoming a hysteria…Ollie Hibbeler's collection gets displayed…free fishing weekend in Kentucky…Pet Shop that sold fishing tackle closes….Dick Walker gets remembered with a plaque…don't pass up any opportunity to fish!…first angling trip is an adventure…Dolly Varden are great fish…a restaurant where you catch your own fish…it must be THE NEWS OF THE WEEK!
The Big Lead
: Has the
hackle shortage
reached epic proportions?
Former NFLCC member the late
Ollie Hibbeler
has his collection displayed by his daughter:
June 6-7 is free fishing weekend
in Kentucky
.
Pet Shop that sold fishing tackle
is closing
.
Angling legend Dick Walker gets
a blue plaque
.
A great piece of advice: don't pass up
a chance to fish
.
A first fishing trip turns into quite
an adventure
.
The Big Bass Bonanza
means one nice cast could mean you are a winner.
Hawaiian surf anglers use
bottom rigs
.
Young man carries on the
good angling work
.
Choosing a fly rod
is tricky business
.
Love those
Dolly Varden
and now is a good time to catch one.
Finishing With a Flourish
:
Catching your own fish
at this Japanese restaurant.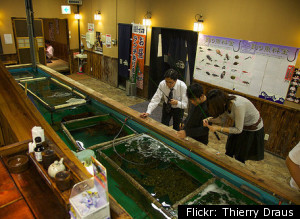 -- Dr. Todd