Giant tuna sells for record price...fishing for Humboldt Squid?...Roger Grimball passes...John Butts is a tackle maker...the Milwaukee show article makes the rounds, again...a bench dedicated to the one that got away...latest tackle on the market...100 year old man got that way because he fishes...whitefish are hot...did Kurita get a raw deal?...a new world record carp...it must be THE NEWS OF THE WEEK!
The Big Lead
: Giant tuna sells for
near record price
...
Richard Lodge sends news that
Massachusetts may ban commercial striper fishing
.
Fishing for
Humboldt Squid
...no really.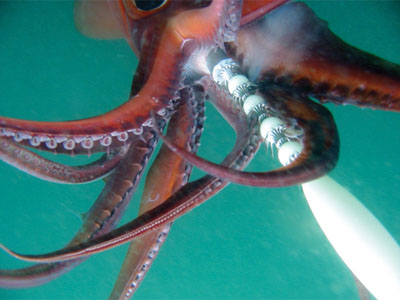 Noted collector Dr. Roger Grimball
passes away
.
John Butts' fishing success leads to a
career in tackle
.
An Angling for Youth project on
the River Tay
.
Old lures that
hook collectors
.
Tampa's newest bench is dedicated to an angler, and perhaps, to the
one that got away
.
The latest tackle
on the market
.
John Merwin on
fluorocarbons
...
ESPN profiles the
boy who loved to fish
.
One centenarian shows how to live to be 100:
fish more
.
The hot "in" fish? The
whitefish
.
Australia isn't changing, especially when it comes to fishing, and
that's a good thing
.
One man thinks Manabu Kurita
got a raw deal
.
This
backcountry tournament
requires only one jig, one fly, and one day.
Mud Minnows
are the inaccessible bait of the season.
Maine's Mattawamkeag
offers both bass and trout at the same time.
Making your own flies is
fun and satisfying
.
Finishing With a Flourish
:
A world record carp
is captured in France.
-- Dr. Todd