The Friday Funhouse
Video of the Week
The Largest catch-and-release in history.
Things I Would Buy If Only I Could Afford Them
Another
Perfect Hardy fly reel
.

This Ambassadeur 5000C De Luxe
is about the pinnacle of casting reel perfection.

Leonard Duracanes
are not my cup of tea, but some people love 'em.
I love the
Wee Dee
but how do you display it with those pokey wires?

The
Charles Ritz Parabolic
has that touch of old world class.
A
Chapman & Son Water Nymph
is a very, very rare metal bait.

Shimano Twinpower
, ACTIVATE!

Heddon Head-On Basser
in Blue Scale is scarce as hen's teeth.

This
Palomine from Pflueger
has attracted a ton of interest.

I'm a sucker for the
Howe's Vacuum Bait
in the box.

A charming
Charmer
.

My all-time favorite bait: the
Immell Chippewa
.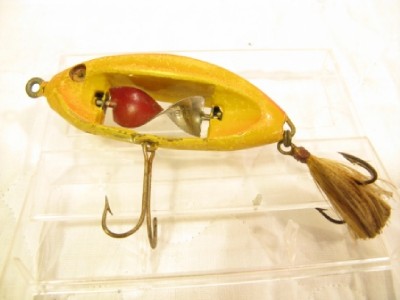 This Dowagiac Basser
is also a rare Heddon bait.
It must be Heddon week as this
Sienna 150
is a super bait.
This
Heddon Fly Rod Runtie
is super hard to find in wood.

I've never seen this
Police 911 Ambassadeur
before.

It must be ABU week too, as this
ABU 3000
is another scarce model.

A wooden
CCBC Deepster
in frog? Yes, please.

As always, have a great weekend, and be good to each other, and yourself.
-- Dr. Todd