NFLCC Member reviews NFLCC member's book...bass on fly rods is ambitious?...learn your aqua etiquette...a Prince George hardware tackle merchant celebrates 90 years...a lifetime of model airplanes (and tackle) comes to auction...a full week of musky...lead tackle ban again causes controversy...IGFA is still making no decision...the hardest pulling fish?...Big Shark....catch-and-eat...a surprise 16 pound Pacu...and a 6 foot barracuda...Heddon ornaments?...it must be THE NEWS OF THE WEEK!
The Big Lead
:
NFLCC Member Robbie Pavey
reviews NFLCC Member Bill Baab's new book,
Remembering George Perry
.
Water temps favor
big bass in Natchez
.
Catching bass on a fly rod
is ambitious.
Why anglers should learn to practice
Aqua etiquette
.
Prince George's Northern Hardware celebrates 90 years of business, including
selling fishing tackle
.
One Winsted, CT man's lifetime collection of model planes and fishing tackle
is coming to gavel
.
A
full week of musky
...or more succinct, a full week of
trying to catch
musky.
Lead tackle ban
in the news again.
The IGFA has still not decided on the potential
Japanese world record bass
.
British anglers
loses five thousand pounds of tackle
in theft.
Welsh anglers are concerned
about climate change
.
Field & Stream's
John Merwin weighs in
on the hardest pulling fish
.
Holy Sharks
batman!!!
Why catch-and-eat
may not be such a bad thing.
Keys angler shocked by
6-foot barracuda
.
Sunfish anglers catch
16 pound Pacu
.
Finishing with a Flourish
: Sheesh. It's
Black Friday time
again, even for anglers. Where else would you get your Heddon ornaments?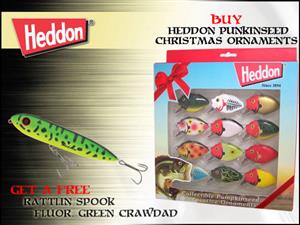 -- Dr. Todd