The Video of the Week
This is an AWESOME (if very long) Brown Trout video.
Things I Would Buy If I Could Only Afford Them
This is a
beautiful Payne fly rod
...oh yes, it also happened to be owned by Zane Grey. Let the bidding commence.

This
Winchester 9611 Fluted Spinner
proves that in tough economic times, Winchester tackle is like gold in the bank.

The title of this auction says it all:
KOSMIC REEL
!
This is an awfully nice
H.L. Leonard fly rod
with tube.

A box of trout flies from the
Lucky Bug Shop in Butte, Montana
is a happy find for any fly angler.

If
the Pflueger Hawkeye
isn't one of the greatest American fly reels of the 20th century...

This
Shapleigh Reel Oil bottle
has to be a tough one for the collector to find.

A Shakespeare Rhodes box
from ca. 1906 will turn a nice lure into an incredible combo.

Holy Punkinseeds
, Batman! This one's got the Punk Heads going crazy.
We love creels
here on the blog, and boy does this one ever have eye appeal.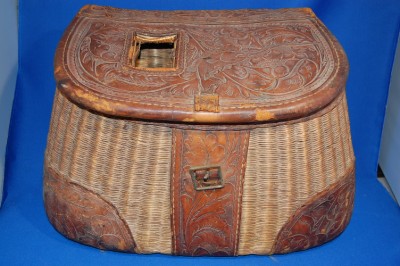 This
Meek No. 4
is an amazing Kentucky reel.
A George Gayle No. 3
is also an incredible find. Good week for the Kentucky Reel collectors!
A slim body Heddon 150
in the box in my favorite color--Green Crackleback--is a wonderful find.

The
Myers & Spellman
is a very, very rare lure.
3 Pflueger Pal-O-Mines
in Scramble? Yes, please.

Johnny Horton was a very popular singer, and made some
nifty lures too
.

The
Johnson Pink Princess
is always popular.

This is a really, really rare Heddon trade rod made for
Sloan's Sporting Goods Co.

Reason #491 to buy every book on tackle available:
Oregon Bamboo by Joseph Beelart
.

This is a huge
CCBC Pikie Minnow in Goldfish Scale
.
As always, have a great weekend, and be good to each other, and yourself.
-- Dr. Todd