An awesome story of an Iraqi soldier and his quest for a giant fish...Gary Baze and Peoria Nationals gets a nice writeup...bass flies rule...subway cars as fish structure?...the monster cats of the River Thames...Catfish on the fly...a boy catches a piranha in his back yard...the man behind the fish pen...Thad Norris gets "exposed" for his fish culturism...it must be THE NEWS OF THE WEEK!
The Big Lead
: An awesome story about an enlisted soldier in Iraq, a legendary 100-pound fish, and the truly great tale of
angling in the worst of circumstances
.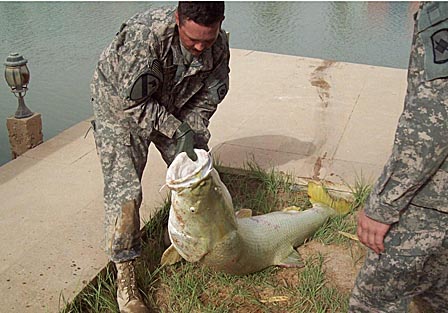 The NFLCC Nationals and show host Gary Baze
get a nice write up in the
Peoria Journal Star
.
A profile of bass flies and bass fly tier
Sean Polk
.
The Plano Star
reports on some
fishing bloopers
.
Finally! A use has been found for those old New York Subway cars we all having lying around: as
an offshore fishing reef
. Hope this works better than the idea of using
old tires as fishing reefs
...
Keith Arthur reports on the phantom
monster catfish of the Thames River
.
The Columbus Dispatch
gives us the 411 on
sturgeon fishing in British Columbia
.
The joys of
Kokanee fishing
.
A musky fishing tale...
from Ohio
.
Catfish on the fly
, courtesy of
The Idaho Statesman
.
Local Illinois boy catches
Red Bellied Pacu
(related to the Piranha) from subdivision lake; proof that idiots are STILL releasing exotic fish into the wild.
From the That Didn't Take Long Files: South Carolina African Pampano record broken...
after just 13 days
.
Catfish Sutton says El Salto Lake is still the best
big bass reserve in the world
.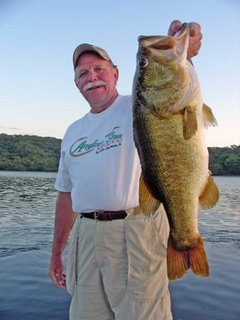 Apparently, plastic worms make for
great fishing lures
. I'm also told that ice makes water more desirable on hot days, but I'm skeptical...
Local Vancouver company develops way to beat the Chinese
at the tackle game
.
The Minnesota Star-Tribune
relates how to
properly buy a casting rod
.
The Tanzania Daily News
reports on the
crackdown on illegal fishing
.
Fish Picture of the Week Folder: A nice 30 pound catch-and-release Musky from
Webster Lake, Indiana
.
A profile of the man behind
the Fish Pen
.
Details on the
Monofilament Recovery and Recycling Program
.
Go Erie
orders us to
build our own worm and jig rods
.
Local fishing clubs step in to
save the walleye population
in the St. Joe when the state bureaucracies fail the outdoorsmen (again).
A nostalgic look back
at fishing in days gone by.
A profile of former University of Minnesota-Duluth football player-turned-fishing guide
"Little" Vince Ekroot
.
Finishing With a Flourish:
An appraisal of
Thaddeus Norris as a fish culturist
, by Mark E. Dixon (with the friendly help of Steve Vernon and yours truly).
-- Dr. Todd