The Friday Funhouse
Video of the Week
The hot weather got me thinking cool thoughts last week...this week I thought I'd continue the trend. Just watching this makes me feel cool all over!!!
Things I Would Buy If I Could Afford Them
This is a neat
Meek & Sons #3
Kentucky Style baitcaster.

I'm not usually a fan of buying empty lure boxes, but these
three Salmon boxes
might make me change my mind.

There are some neat fly rods on eBay this week; we start with this two-piece
Leonard 6' Super Fairy Wand
. They don't come shorter or rarer than these.
This
Russ Peak fiberglass fly rod
is one of the most coveted modern rods.
The Heddon #50 President
is a fine fly rod, but certainly the subtitle is hyperbole at its highest form.

I love this
Heddon Artistic Minnow #50
and casting buoy in incorrect downward leaping bass box.

A Creek Chub Injured Minnow
in Gantron Fire Lacquer is a rare bird indeed.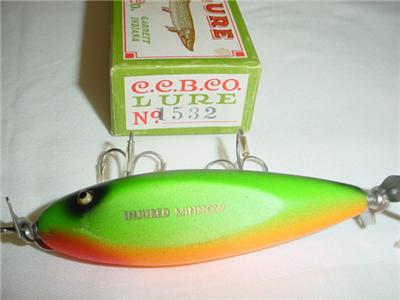 The Evans Eagle Claw
is one of the most desirable spring loaded hooks ever made.

This Bill Edwards Quadrate rod
would be a great stream casting instrument.

Another nice Heddon fly rod--
the Henshall Handkraft
, made for Weber of Stevens Point, Wisconsin and named after the great Dr. James Henshall.
A Heddon Tiny Lucky 13
rarely breaks three figures, unless its in a color as rare as this one.
A Heddon River Runt
in all red would make any runt collector's day.

An F.C. Woods Expert Minnow
is a great find.

Instant collection alert:
21 different Millsite
river runt knock-offs.

A Bagley Reb II
is going to make some Bagley collector really, really happy.

This is a great
Abbey & Imbrie "The Ghost" lure
in its original box.
Shakespeare is not known for its saltwater reels, but this week a pair have attracted some attention. The first is an
awesome Miller Autocrat
. I wonder if it comes with the one dollar bills?

The second Shakespeare saltwater reel is this terrific
Sword Fish Reel
marked with a Shakespeare patent on the side plate.

-- Dr. Todd from Peoria, Illinois