The Friday Funhouse
Video of the Week
Thanks to Joe Yates for alerting us to the fact that Catfish are now walking the streets of Florida.
Things I Would Buy If I Could Afford Them
The Perez #1 saltwater reel
in the box is a very nice find.
This DAM Quick Microlite
spinning reel has attracted a TON of attention.

A Heddon Spindiver
in the box is always an amazing find.
A nice
Pflueger Metalized Minnow
is a lure with a lot of flash.

Heddon Bassers
are very popular, especially in tough colors like this.

Usually eBay listings are full of hyperbole...but not in this case. This
VL&A rod made by Ed Payne
is a truly rare bird.

Heddon Coast Minnows
rarely surface, especially in Strawberry Spot.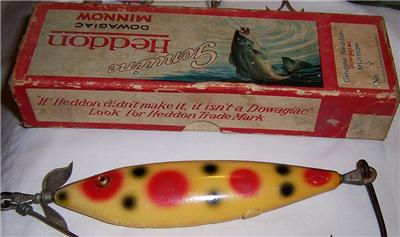 Must...not...spend...all...my...money...on...
Pflueger...Maybug...

Holy
Bottom of the Tackle Box
, Batman!
This is one
old outboard motor
!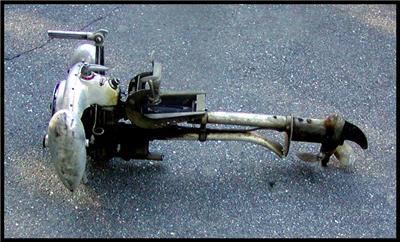 A Heddon Black Beauty
is a good fly rod to use or collect.

This Heddon Tiny Punkinseed
is in great shape and a rare color.

5 Whalbone jigs
are going for...how much???
Staro Spinning reels
have become very popular.

The Moonlight Pikaroon
is a top 10 all-time great lure.

A
Creek Chub Surfster in Blue Flash
is a great find.

This Hawks & Ogilvy
marked kidney spinner is a classic piece of pre-1893 fishing tackle.
This is a very rare
Richards & Conover Rich-Con
marked trade reel, made by Montague.

Have a safe and happy weekend, and as always, be good to each other and yourself.
-- Dr. Todd