The Friday Funhouse
Video of the Week
Joe Yates sends us a video that has to be seen to believed. Unreal....
Things I Would Buy If I Could Afford Them
A nice CCBC
Jointed Deep Dive Pikie in Tiger Stripe
is a nifty find.
A really classic lure is the
Miller's Reversible
. To find it in the box? Wow.

This CCBC Tarpon Pikie
in the box (with messed lettering) has attracted a ton of interest.

A nice Heddon 150
seems so old school compared to the plastic lures that have attracted so much interest of late...

A Paw Paw Crippled Minnow
is a beautiful, intricate lure.

Another tough
Heddon 740 Punkinseed in Goldfish Scale
.
Jaleoxe? Jaloxe? Jeloze? No, its a
Bronson J.A. Coxe Invader 26
and people are going crazy for it, under any name.
Green Reel. Green Box. Green exploded drawing.
Add the word "Ambassadeur"
and you've got the makings of a great reel.

The Hurd Super Caster
is a very, very popular rod-and-reel combo.
Hey Heddon Hi-Tail collectors,
this Bud's for you
.

Simple, elegant and effective, the
Jim Donaly Redfin
is a classic topwater bait.
A classic
Heddon 200 Surface Expert
is a good start to an early lure collection.

A W&M Granger Victory
8' fly rod is a great fishing tool and a nice collectable.
A really neat
A.G. Spalding celluloid split shot tin
dates from the late 1920s.
A Heddon Midget River Runt in
Blue Shore Minnow
is a rare bait.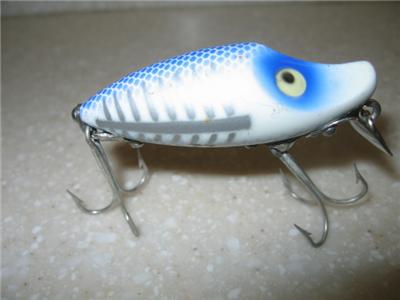 A Meisselbach Okeh 630
in the box is a really hard combo to find.

Is there a prettier lure--old or new--than
the Little Sac Niangua
???

Although the
photo finish series River Runt Spooks
are a relatively late bait, they are rarer than hen's teeth.

This Shur Strike Surf Oreno
in Green Frog/Orange Belly is a very cool lure.
Rinehart Musky Jinxes
(in the box) are a nice testament to a great luremaker.
A nice
Hiram Leonard Bangor, ME rod
with the name F.H. Patten, Bath ME engraved on the butt. Doesn't get much better than this!
I always love inscribed vintage rods. I think the more we can discern from the few inscribed rods that exist the more we can tell about the rodmaker's clientele. In this case, F.H. Patten of Bath, Maine.
I did a little digging and it seems Frederick H. Patten (1838-1889) was the son of James Fulton Patten, one of three brothers (George and Charles were the other two) who formed a very prosperous shipbuilding enterprise in Bath and who were in business with the famous steamboat man James Fulton (maybe related per his father's middle name). F.H. was the founder of the Bath Water Supply Company in Bath and went to New York to conduct a shipping business, but returned in 1883 when his father died and left him a massive estate. He promptly retired and spent the remainder of his time managing his wealth, and clearly, doing some fishing too. His days, unfortunately, were to be all too short--he died only six years later at the young age of 51.
The History of Bath and Environs
called him "A quiet, unassuming gentleman, of striking personal appearance and genial manners."
Pretty much exactly the kind of guy you'd think would buy (or be gifted) a Leonard rod.

Finally, you can own
Joe David Brown's A&F custom made passport rod
. If you don't know who J.D. Brown is, he only wrote the novel
Addie Pray
--which was turned into the great Academy Award winning movie
Paper Moon
.
Have a great weekend and be nice to each other, and yourself.
-- Dr. Todd