A pro bass angler has his favorite swim baits flown to him during tournament at cost of $7000...a tournament for returning vets...longshoreman breaks world record...man misses Ohio state walleye record by 1/4 ounce...fishing Saddam's palace grounds...sneaking up on fish with new trolling motor invention...custom rod maker and outdoor personality Ralph Knisell passes away...a profile of bamboo fly rod maker Jesse Connor...it must be THE NEWS OF THE WEEK!
The Big Lead:
Bassmaster Elite Series pro Kotaro Kiriyama pays $7000 to have his
favorite lure flown in from Japan
during a bass tournament.
UPDATE:
Tournament pro, noted collector, and all-around good guy Bernie Schultz writes to inform us that Kotaro did NOT have to pay these expenses himself, his sponsor had them flown in by courier. Thanks for setting the record straight, Bernie, and keep pullin' in those big ones!
This annual outing is
designed to attract children
.
Black Drum
bring the fight to you.
These G.I.s set up a fishing tournament for
returning veterans
The Green Bay Press Gazette
takes a break from mourning about the Favre retirement to decry spring fishing
as a freezing experience
.
The one drawback of owning a successful bait shop:
no fishing for you
.
The Anniston Star
reports giant catfish abound in Alabama, if you
know where to find them
Indiana angler breaks Pennsylvania state record for Golden Rainbow Trout with
13.75 pound monster
.
Longshoreman catches
world record Yellowedge Grouper
.
Massive new "Sportsman's Island" opens in
Charleston, South Carolina
.
While some parts of the country struggle with falling water tables, Colorado's booming reservoirs promise
a great angling season
.
Massive 16.13 pound walleye
misses Ohio State Record by 3/100th of a pound.
30-minute battle on the Mighty Mississippi ends with a
76-pound Blue Catfish
.
The Independent
reports how fishing has returned to
Saddam Hussein's palace grounds
The Kane County Chronicle
tells us how new lures
will hook fish, you
How kids can learn to
think like a fish...
New invention allows you to better sneak up on fish
with your trolling motor
.
From the Tougher Than You File:
The Duluth News-Tribune's
Sam Cook reports on an
83-year old angler
who survived a fall into the Brule River, 35 minutes in the chilling water, and a resultant heart attack.
British anglers are catching
carp over 100-pounds
.
From the Hope for the Future File: Even nuked coral reefs can come back,
if we leave them alone
. Just don't eat the coconuts.
Scientific America
on the
science of catch-and-release
.
The Morris Daily Herald
declares the
right rod makes all the difference
.
The Orlando Sentinel
profiles
ice decoy carver David Perkins
.
The Philadelphia Inquirer
reports the sad news that Ralph Knisell, outdoor writer and custom rod builder,
has passed away at 83
. More on Knisell's life and career
here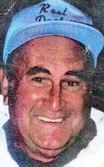 From the Spring Break Files: College students lands
7.5 pound, 27-inch Palamino Trout
The Cadillac News
philosophizes that
not all of fishing is catching fish
.
Blue Ridge Now
interviews
bamboo fly rod maker Jesse Connor
.
Finishing with a Flourish:
The best outdoor writer in America, Sam Cook, gets one of his classic stories
"the Old Man and the River" reprinted
.
-- Dr. Todd