A kiwi fisherman set adrift fights off killer sharks with his fishing rod...a Haskell Minnow strolls in off the street at an NFLCC show...the Kiwis love their Blue Cod...the Aussies can't get enough Dave...hide the good china, the Trout Bums are coming...a fish story involving eagles, an airboat, and a really big catfish...it must be THE NEWS OF THE WEEK!
THE BIG LEAD
: Shocker of the Year:
Man Sold Stolen Fishing Tackle on eBay
.
Joe's Message Board reports that a Haskell Minnow walked into the Milwaukee NFLCC Show, and
sold for over $20,000
.
The Louisville Courier-Journal
shows us how to
learn on the fly
.
Sam Cook, my hometown outdoor writer--and one of the best in the business--opines on the
demise of lead shot for hunters and anglers
.
Phil White--after some technical web site issues have been solved--gives us the
eBay report for December 2007
.
Ben Wright opines on the state of Spinning Reels in his
December 2007 Spinning Reel Report
.
North Carolina attracts anglers searching for
fifty pound bass
.
Iowa City's KCRG reports on
fish lure carver Dan Mascal
. Complete with video.
Texas High School Freshman is Better Angler than You:
Boats 13 pound largemouth
.
Hartford residents rejoice, a
new tackle shop has just opened
.
The San Diego Union-Tribune
reports on a
new book on Baja Fishing
. You stay classy, San Diego.
The Michigan City News-Dispatch
reports on
old tackle for kids
, an idea gaining steam.
This Week in Know Your New Zealand Fish:
The Blue Cod
.
North Carolinians spend
$1.7 billion on outdoor pursuits
. That's a lot of Scooter Poopers.
Aussies can't get
enough of Dave...
The Oklahoma Outdoorsman
reports on the secret behind
Lucky Craft lures with real skin
.
UK's
Dorest Echo
reports on a
"fish of a lifetime."
What do you do when fish bums come to town? Why,
watch a movie of course
. Oh, and hide the good China too.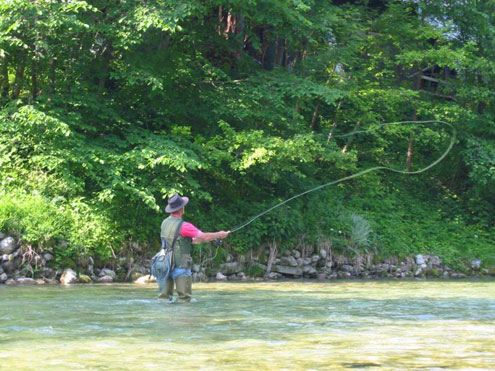 Fish & Fly
tells us about the
joys of micro flies
.
The Hickory Record
reports on a local angler who wants to be a
positive influence on youth
.
A fish tale involving an airboat, eagles, and a
hellaciously large catfish
.
The New York Times
reports on
Rod, Reel & City
.
Budding journalist hoping to write story on sturgeon fishing
hooks TWO seven foot monsters
.
The Concord Monitor
reports on
a man who's sharp on carp
. Complete with yummy chum recipe.
Angler boats
500 pound sturgeon
.
The Daily Lafaeytte Advertiser
spotlights
Olivier's Custom Rod Shop
.
Georgie Sportsman Magazine
reports
on a monster striper
.
The Albany Times-Union
opines
on antique fishing tackle
.
The Baxter Bulletin
profiles
modern lure maker Gary Baker
.
Phil White reports on a
disturbing eBay trend concerning fishing tackle
.
Wally Murray, Hoagy Carmichael, and others opine on the
past and present state of the Museum of American Fly Fishing
.
Finishing with a Flourish
: Kiwi fishermen set adrift
battle off sharks with fishing rods for nine hours
.
-- Dr. Todd