There were some interesting items this week in the news. First, the
2007 The National Survey of Fishing, Hunting and Wildlife-Associated Recreation Survey
is now on-line. The short of it: 87 million Americans are outdoors enthusiasts and they spend $120 Billion per year. This does NOT count several prominent collectors, who it would seem spend a billion a year on eBay on all the items I need for my collection.
An interesting article in
The Palm Beach Post
entitled
Knockoffs hook Stuart business into global economy
about a tackle maker in Florida who found cheap imported copies of his lures for sale here in America. Those old enough to remember the 1950s and 1960s knows this is just history repeating itself--American tackle being knocked off overseas. Before it was Japan; now its China.
An article in
The Detroit Free Press
entitled
Gamut of gear available for bank fishing
opened my eyes to the incredible array of tackle available to bank fisherman. There was a time when bank fishing was done with a cane pole. Of particular interest was the modern bank fisherman's use of baitfeeder spinning reels with two drags, heretofore only popular among saltwater anglers.
Finally, I had earlier referenced the Carrot Stix fishing rods made from carrots that were all the rage at ICAST this year. I missed out on linking a couple of other articles of interest. The first is an article on
Scented Fishing Lures
including some nifty "realistic" feeling lures.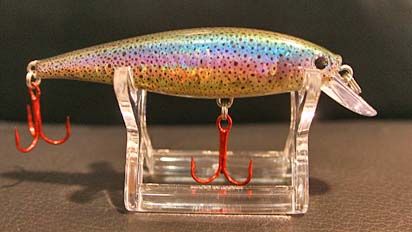 Lucky Craft Real Skin Pointer
The second article is about the latest trend in fishing tackle entitled
Swimbaits more than just a passing fancy
.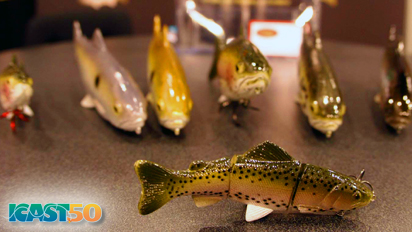 The third article is
ICAST50 New Product Blog
that covers some of the more interesting products available. My favorite is the bumble-bee spinner.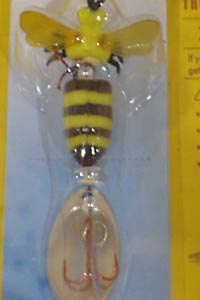 -- Dr. Todd