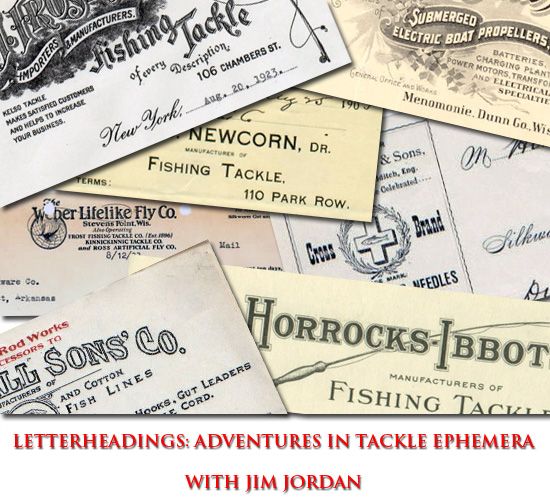 This weeks feature is a letterhead dated March 27, 1952  from Orchard Industries of Detroit Michigan. Initially the company offered steel casting rods and by 1949 the company was advertising their Action glass rods as new. Throughout the years Orchard offered a large line of  Spinning, Bait casting, Fly casting, Musky and Saltwater Action rods. This company had a rod for all budgets ,prices ranged from $4.87 for a plain low end casting rod up to $75.00 for a hexagonal tubular glass fly rod. Interestingly , in 1951 Orchard Industries made a color movie available to Sportsman's Clubs featuring Tarpon Fishing with an Action Rod.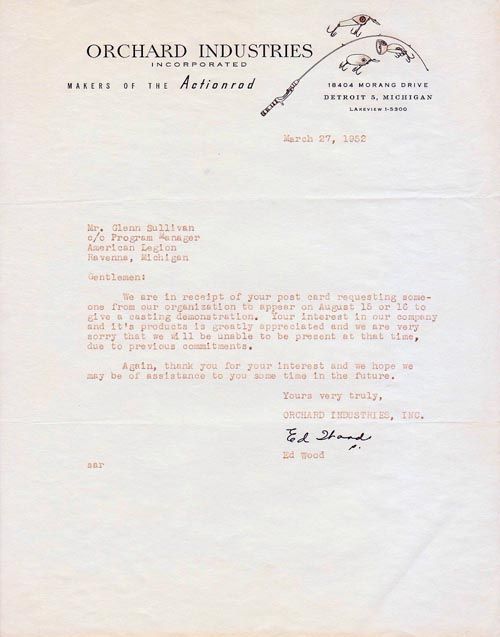 The company made only a few lures, all of which are illustrated on this letter. The jointed bait is called the Slippery Slim, the bait with the cupped face is called the Kick-N-Kackle and the lure with the diving lip was named the Bottom Scratcher.
The letters content shows that Orchard Industries was among the many tackle companies that promoted their line through the use of exhibition casters.The letter is in response to an American Legion program directors request that Orchard Industries provide a representative to give a casting exhibition on August 15 or 16. Unfortunately Orchard Industries had prior commitments for those dates and was unable to accommodate the American Legion.
Best Regards,    
      Jim Jordan