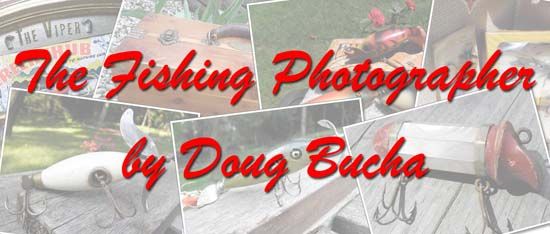 Most lure collectors probably have a manufactured lure or two in their collections that they have never been able to identify. It helps, however, when lures in this category have a story to go with them. Even the story might help in their identification. The two lures in the photograph have such a story.
Many years ago, Mike Kechkaylo, Harold Dickert, and I took a week- long fishing trip to the Upper Peninsula of Michigan. While on this trip we ran across an old bait shop just west of Land O' Lakes, Wisconsin. The elderly gentleman who owned the shop for many years was getting ready to retire at the end of the season. During the hour-long discussion with him we found out his life story. He had started out in the 1920's as a trapper and Musky guide. After a period of time as a Conservation Officer, he went into the tackle business.
After another hour of conversation, he invited us back into his storage room. WOW! Hundreds of old lures hanging up on the walls. There were a few dozen lures that we had never seen before. He stated that he had picked these lures up from clients over the years, who had either left them behind or had just given him the lures for putting them on a good fish.
Another hour passed and he agreed to let each one of us buy a few lures for our "Musky fishing trip". We jumped at the chance and each one of us picked out a half-dozen larger lures. Because of their uniqueness, I just had to have the two unknown lures shown in the photograph.
I have taken these two lures to shows for the past twenty years and have had little luck in finding out who made them. The spinner on one of the lures appears to be made of tortoise shell while the other appears to be made of horn. After checking the materials using the smell test, I have come to the conclusion that they are both made of natural materials. Tortoise and horn can both be bent to unusual shapes using heat. The lures do have considerable age to them and were made to catch larger fish.
Does any of this help in formulating any ideas as to: who made them? Well, it's up to you now. Your input is welcome and if you would like to add your thoughts, go to the COMMENTS so everyone can have a look.
Thank you, Doug Bucha (dbucha@att.net)