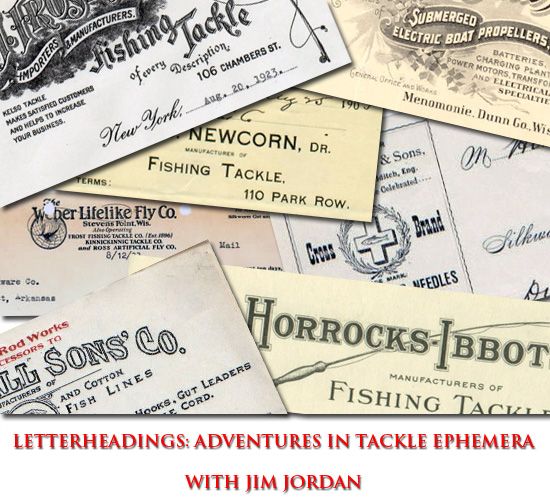 This weeks feature is from Tycoon Tackle Incorporated, Miami, Florida dated  July 2, 1937.  I love the graphics on this one. A wonderful fishing scene of a boat, an offshore angler seated in a fishing chair, bent rod in hand, fighting a large Billfish. I can almost taste the salt air.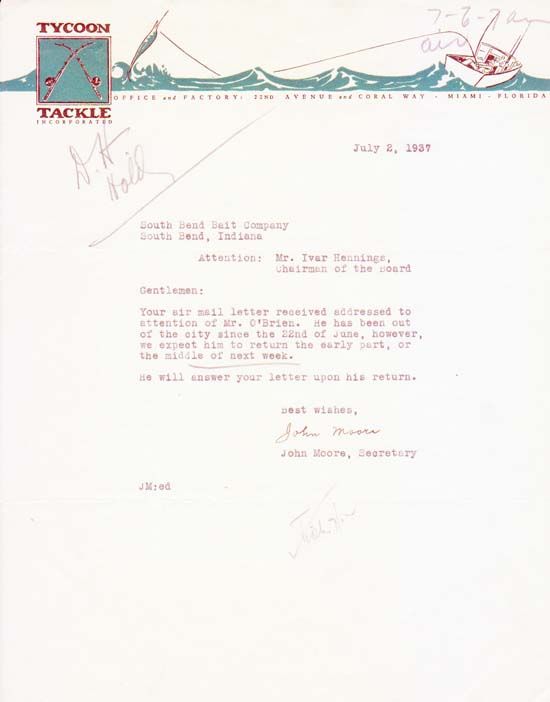 The content of this letter is fairly plain. South Bend Bait Company's Ivar Hennings was trying to get in touch with Tycoon's founder Mr. O'Brien. It is one of many examples of how correspondence between tackle companies took place back then. The following is a brief history of Tycoon Tackle by Tim O'Brien. Tim is the son of Tycoon Tackle founder Frank M. O'Brien.
Tycoon Tackle was one of those stories that can be considered "a typical American success story" because it did not begin with someone's visions of greatness.  The company's founder, Frank M. O'Brien, Jr., had an idea, and a dream. to make a better fishing rod than was then available.  He was not concerned about competition or the odds of success; he simply wanted to make a product, period! O'Brien designed and tested the products himself, he listened to what the great anglers of the day liked and disliked about existing fishing rods, and he consulted with the skippers and crews to glean their perspectives of what worked well and what did not.  He was never afraid to modify or alter the product line as necessity dictated. In time, names like The Martuna, The Bimini King, The H.R.H., The Scion, and others became synonymous with catching big fish and orders were placed by anglers from all over the world.  In the end, he overcame the odds and the company grew to be a giant in an industry that today is one of the leading generators of revenue and income in the world.  Through testing, perseverance, and hard work he achieved his goal.  And in time, this angler and his little Tycoon Tackle Company rose to prominence in the sportsman's world to the point where at one time its products held more than ninety-five percent of all the "Big-Game" world record fish that were caught.  Along the way, this company helped win a world war, impacted the commercial fish packing industry, was a pioneer in plastic injection molding, and set the standard for excellence in production, innovation, safety, and quality.
I'd like to give Tim a big thanks for providing us with this wonderful history of his Father's company. For a more in depth look at Tycoon Tackle, Check out Tim O'Brien's book, The Tycoon Tackle Story.  It is available here by by clicking here.
Best Regards,
Jim Jordan