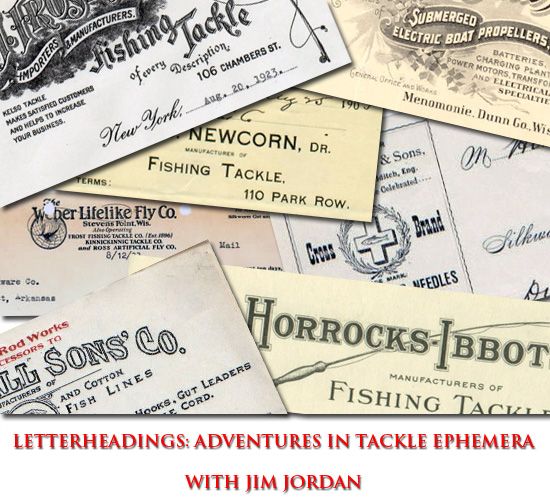 This weeks letterhead feature starts out with an example from a Carlisle, Penn. Watchmaker & Jeweler. Its heading is Line & Line Watchmakers & Jewelers.
Even though its heading is not that of a tackle company, the letter's content and the accompanying material make this interesting. The letter is addressed to the Airex Division of Lionel Corporation (which is crossed out with a pen) and is dated July 20 ,1964.
This letter was a request for an overhaul of an Airex Bache Brown Masterreel Model 3 spinning fishing reel. It describes the issues which need attention. The letter is signed by Henry Line. Handwritten at the bottom of the letter are the words "P.S. Send reel in with this copy to my attention and we shall repair. Thank you, Mrs. Lombardi".
This letterhead would not tell much of a story on its own. Fortunately, it was found with other paper work that captured the final transition of Airex Tackle.
Those who collect Airex would be able to surmise by the date on the letter why the words Airex Division of Lionel is crossed out. For 1964 was the year when Feurer Bros. took over the Airex line from its former owner Lionel Corporation.
Apparently this letter addressed to Airex was forwarded to the company's new owners Feurer Bros. It was then returned to the sender with an offer to repair the reel in question. Upon returning the letter, Feurer Bros. included one of their catalogs, a  price list and a Service dept. letterhead with an offer to accept trade-ins on their new reels. These paper items are a great snapshot of the Airex line's transition from Lionel to Feurer Bros.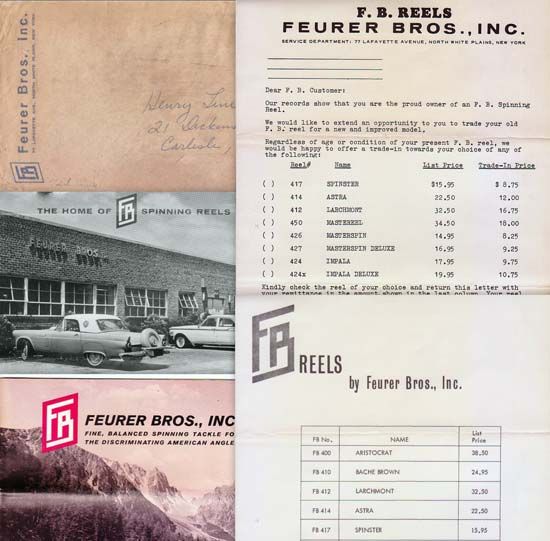 I wonder if Watchmaker Henry Line of Carlisle, Penn. was comforted knowing his treasured reel would be repaired by fellow watchmakers, rather than folks at a company best known for making toy trains.
Best Regards,
Jim Jordan