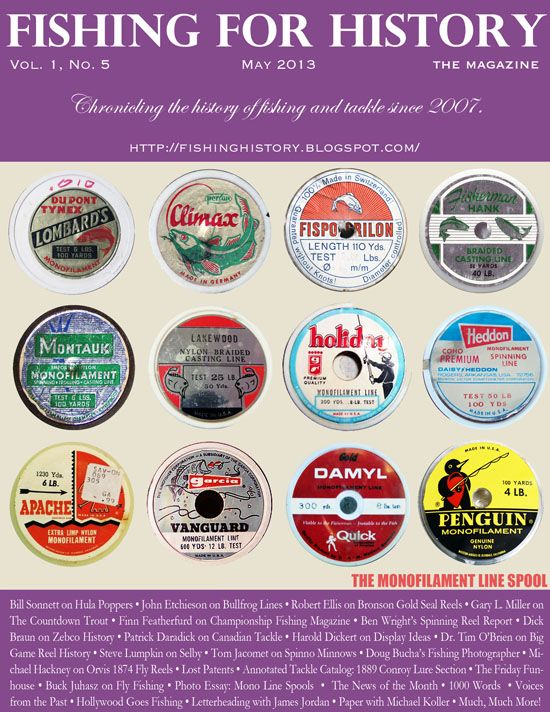 The May 2013 issue of The Fishing for History Magazine is up and ready to be downloaded! It's 100 pages of pure fishing history joy!
This issue features the following articles:
-- Bill Sonnett on the Arbogast Hula Popper
-- Gary Miller on Countdown Trout
-- Steve Lumpkin on the Selby Flat-Head Minnow
-- John Etchieson on All Foss and Bullfrog Line
-- Dick Braun on the Zebco
-- Finn Featherfurd on Virgil Ward and Championship Fishing Magazine history
-- Patrick Daradick on Lucky Strike
-- Tom Jacomet on Spinno Minnows
-- Dr. Tim O'Brien on Big Game Fishing Reels
-- Harold Dickert on an Interesting Display
-- Ben Wright's Spinning Reel Report from March 2013
-- Robert Ellis on the Bronson Gold Medal Reels
-- G. Buckley Juhasz on Rod Tip Tricks Rodmakers Don't Want You To Know
-- Annotated Catalogs: T.J. Conroy Lure Section (1889)
-- Photo Essay: Monofilament Line Spools
-- Collection of the Month: C.A. Clark Salesman's Case
-- Fishing Photography with Doug Bucha
-- Full Page Ads
-- The Fishing News of the Month
-- 1000 Words
-- Focus on Full Page Ads
-- The UNID Files
-- Lost Patents: Hansen Tackle Box
-- Voices from the Past: Charles Davis Pratt, W.T.J. Lowe, South Bend
-- Michael Koller on Fishing Regulations Pamphlets
-- Joe Stagnitti on a Perfect Wedding Gift for Anglers
-- The William Demmer Prototype Rod-and-Reel Combo
-- Lost Patents: Hanke Powerhook (1957)
-- Outers vs. Recreation Magazine
-- The Phantom Twin Syndrome
-- Letterheadings with Jim Jordan
A spectacular issue! Note that is 17 megs and will take some time to download! Download the May Issue for free until June 15th!
-- Dr. Todd