The following ad is from the August 1935 issue of
Field & Stream
.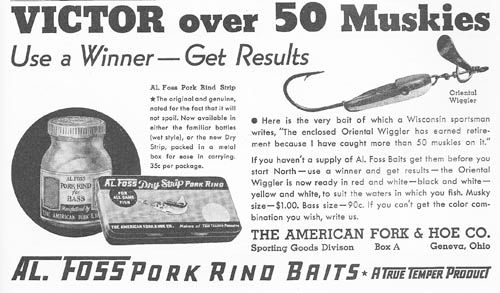 By reading this ad carefully we not only learn that the pictured Al Foss Oriental Wiggler has taken over 50 Muskies, but toward the end of the ad we see that the Oriental Wiggler is offered in a "Bass" size for $.90 and a "Musky" size for $1.00. Many new collectors are unaware that there is a "Musky size" Oriental Wiggler. One would naturally expect it to be an over-sized duplicate of the standard sizes. Surprise, surprise --- it turns out that the "musky size" is exactly the same size as the standard #3 Oriental Wiggler.
There are some differences which may not be apparent at first glance. There is an additional wire that is molded into the body which wraps around the hook, presumably to give it extra strength. Also the shaft on which the spinner turns at the front of the lure is not the usual fixed shaft that is molded into the celluloid body. Instead it is a separate, free-swinging shaft that is attached to a strong molded-in line tie at the front of the body. One has to assume that this is designed to add flexibility to the lure to withstand the violent thrashing of a strong fish.  
The Musky Oriental Wiggler is shown in both these photos beneath an older standard # 3 bass size Oriental Wiggler. Notice the free-swinging spinner shaft on the Musky model and from below one can easily see the molded wire reinforcement which wraps over the hook.
As I was pondering this ad what should arrive in the mail but a package of miscellaneous box papers, one of which proved to be for the Musky Oriental Wiggler. It is reproduced here.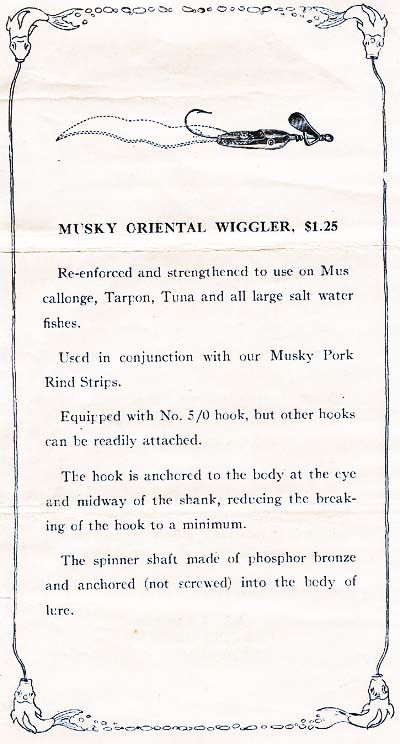 From this paper I take the following: The Musky Oriental was in production before True Temper bought out Al Foss in October 1929. The price for the bait was higher then, than in 1935. The shaft on which the spinner was mounted was listed as being made of Phosphor Bronze, a very hard and expensive alloy. My example must be one produced later as the shaft is flexible and is attracted by a magnet, both properties that are not associated with Phosphor Bronze. Perhaps this was an economy instituted by American Fork & Hoe (True Temper) who had the misfortune of purchasing the lure business from Al Foss just days before the stock market crash in October of 1929. Finally, I learned that Al Foss produced a "Musky Pork Rind Strip" something I don't ever remember seeing.
Though the Al Foss Shimmy Wiggler seemed to be a favorite of many early fishing authors, they usually had only good things to say about the Al Foss Oriental Wiggler. I tried an Oriental Wiggler this past summer and I was very impressed. It really made that pork rind strip wiggle.
Tight Lines,
Bill Sonnett