I have always been fascinated by Texas fishing tackle, and perhaps the most distinctive of all Lone Star baits is the classic Sail Shark, first introduced in the immediate post-World War II era. A product of the San Antonio based Demon Lure Company, it was a little 3/8 oz. 1 1/2" weighted lure billed as "super for all game fish; smallmouth and largemouth bass, large panfish, pike, crappie, and trout." They have many merits as a collectible, as they are abundant, colorful, and make wonderful displays.
Iowa collector Randy McCurdy had a great collection of these little baits which are pictured here. It's a wonderful display and a great collection that was certainly a lot of fun putting together. Many thanks to Randy for sharing his collection with us!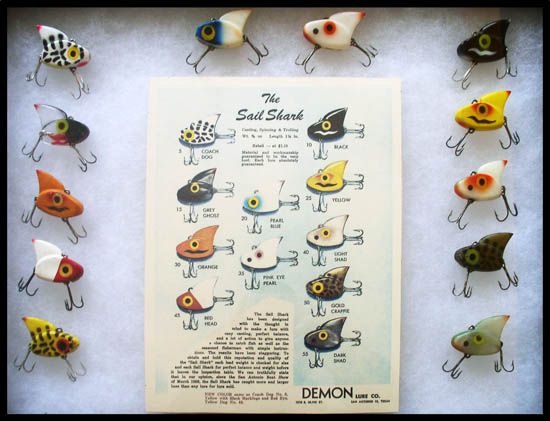 If you have a small collection you would like to see profiled in the blog and Fishing for History Magazine, send me an email!
-- Dr. Todd