Thursday Review: Ben Wright's Spinning Reel Reference & Value Guide
Back when I was a choir boy of 10+ years experience, we used to really get into singing spirituals. One of my favorites was a moving number called "Great Day (for Righteous Marching)."
What's that got to do with the price of fishing tackle?
It's a great day, that's why. Ben Wright's new book is out.
2011 is really a banner year for fishing books, and it's only April. Why don't you go and add
Wright's Spinning Reel Reference & Value Guide
to the list of the year's excellent books.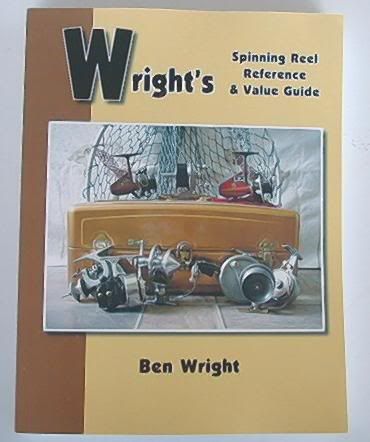 Ben Wright is a pioneer, who saw that the collecting world was ignoring a huge piece of its history--spinning reels--and decided, almost single handedly, that this injustice should not stand. So he took it upon himself to start chronicling the history of spinning reels, and creating a guide so collectors would have a starting point to build collections and establish trade value.
Take a minute to reflect on how many spinning reel makers and models are out there. Then start thinking of where, given the task of outlining the history of spinning reels that date back 100 years, you might start. ABU? Mitchell? Ryobi? Start adding hundreds of names and it becomes overwhelming unbelievably fast.
But Ben persevered and his original book was a landmark achievement, followed by several supplemental volumes. Always, Ben promised to give us a single volume that contained all of this information under one cover. And here it is.
Great day! Great day for righteous marchin'.
Wright's Spinning Reel Reference & Value Guide
is a massive tome containing the history of over hundred reel companies and over 6000 separate spinning reels. It's amazing in many ways. How many of us get spinning reels and don't have any idea of their, age, scarcity and value? I just got an email last week asking for information on an Orvis 350 and Ambidex No. 1 spinning reels. With Ben's book, I was able to know immediately the relevant information of both reels.
Organized in alphabetical order, it gives manufacturer, model number, approximate date, and value for each of the reels surveyed.
It is an 8.5" x 11" softcover of 526 pages, with 575 black-and-white illustrations. A self-published book, it is quite polished, although it would have been nice to see the images integrated into the text rather than in an appendix at the end. The images could have used a bit of work, but it's an incredibly minor quibble in a book that offers so very much information that is simply not available anywhere else.
I would suggest that this book should be a standard volume for any tackle collector, whether they collect reels or not. Spinning reels are perhaps the most commonly found item of this kind in the field, and to know the value and date of these reels is to know the difference between a $10 reel and a $250 one. No serious collector should be without this book.
It is the definitive work on the subject and will rightly elevate Ben Wright from a pioneer to a legend in the fishing tackle world.
The book is $59.95 (plus shipping) and available only from the author spinrite@rochester.rr.com. Email for order details.
Great Day, indeed! Hit the music:
-- Dr. Todd