The Friday Funhouse
The Video of the Week
For those who enjoy the comedy of Monty Python, here's the origins of the Fish Slapping Dance.
Things I Would Buy If Only I Could Afford Them
This is one incredible
Hardy fly reel
...

An unopened is attractive a lot of attention.
Mitchell 300

Instant Collection Alert: A set of
70 Bingo lures
from Texas.

He may be just the other brother to some, but I love
Julius vom Hofe reels
.

Yes, I like
Kent Frogs
, which is why they show up on here a lot.

A 5-Hook luminous
Woodpecker from South Bend
in the box is a sweetheart lure!
A
CCBC Beetle
in the box is one of the finest Creek Chub lures.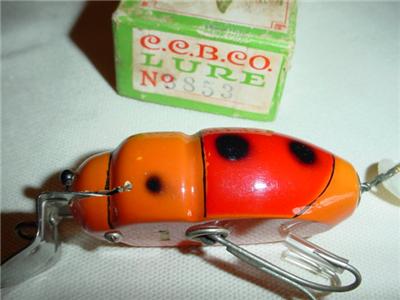 The Heddon
3-30 German Silver reel
is a classic baitcaster.
This
Ed. K. Tryon "Jay Harvey" trade rod
is really a neat fishing instrument and collectable.

We don't feature many fly tying vices on the blog, but this
Abel Supreme
is a Rolls Royce in the field.
Ah, the
K&K Animated minnow
...one of Florida's iconic baits.
Fishing Lines have been going through the roof lately. Here's a neat
Kinfisher silk line in the box
.
Charles Fasoldt fishing reels
are beyond rare.

Across the alley from the Alamo, lived
a Shakespeare reel
and a Navajo, who sang fishing reel Hi-De-Ho, to the people passing by.

As always, have a safe long weekend, and be good to each other, and yourself.
-- Dr. Todd