The first casting reel I ever owned was an original Ambassadeur 5000 my father bought not long after he returned from Korea. He had always been a Shakespeare fan--he had owned a number of Marhoffs which he still feels is a superior reel to the Pflueger Supreme. But the second he casted with an Ambassadeur, that was it. I don't think he has used another brand of casting reel since. He has, of course, continually upgraded the Ambassadeurs but the 6000C he has used for decades is still as serviceable of a reel as it was when he first bought it, and it still gets used every year too.
It is this kind of devout loyalty that helps us understand why there are so many people who collect Ambassadeur reels. Of all the many web sites out there, perhaps the most detailed and impressive is Australian Wayne Real's
"Real's Reels" site
, devoted to the world of the Ambassadeur Reel.
Wayne--the Ambassadeur of Abu--has fished these reels for over three decades and has put together an unbelievable wealth of information on all aspects of ABU, from the great reels to the history to the lures to the obscure. Pretty much everything you'd ever want to know about ABU and Ambassadeur can be found in its myriad of pages.
I have been visiting the site for a couple of years, and among my favorite things are the ABU advertising. The catalog inserts are also very cool (and rare) and offer a great glimpse at the history of this firm.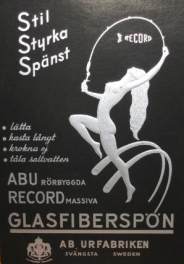 Rare ABU sign from Wayne's web site
If you are interested in ABU's this is a must have, and if you aren't than you will find out quickly why there are so many ABUholics out there. Stop in and spend an hour; you won't regret it.
-- Dr. Todd