The insanity of shark fishing from a kayak...a profile of Lew Childre...a monster goldfish on the loose...the reinvention of fly fishing...angler lands a 900 pound shark...a Duluth plumber invents a new trolling rig...35 years after the Clean Water Act our water still isn't clean...the overlooked Chum...it must be THE NEWS OF THE WEEK!
London's
Daily Mail
reports on insane fishermen who
catch sharks from their kayaks
. I'd actually prefer
gator fishing
.
The Carolina Antique Tackle Collector's Club
gets some love
from
The News & Observer
.
From the You Can't Buy That Kind of Good Press File: Consumerist on-line illustrates how Quantum Fishing
gains a lifelong customer
with its repair policy.
An inspirational story about a young angler
who hauls in a very large fish
.
The Fort Wayne Journal Gazette
reports that a
Stewart Gordon is reinventing fly fishing
. Most people thought there was nothing wrong with it in the first place...
The NFLCC Gets good press again
from Dallas' Ray Sasser
. Could someone please get this guy a complimentary NFLCC and ORCA membership???
Angler lands
monster 844.4 pound Mako shark
, has nightmares for weeks after.
From the Obvious File: The Annapolis Capital declares
small baits are the key to success
.
Duluth Plumber invents
new tackle gadget for trolling
.
BREAKING NEWS: The Beetle Spin
still catches fish
.
U.S. Fly Fishing Team ready to
"tackle" the world
. I just now got that. By "tackle" the author meant "take on." You see, its a clever play on words; tackle meaning both fishing tackle and taking on at the same time. How witty!
Burnham-on-Sea
opines
on a new tackle shop
.
The Fayetteville Observer
tells us to
Cast our Worries Away
. And by "cast" they mean...oh never mind.
Sport Fishing
tells us about
an all-lady fishing tournament in Islamorado
.
Next week is the 35th anniversary of the 1972 Clean Water Act. Problem is,
our water is still polluted
.
Penn Fishing Tackle is promoting
the Angler's Legacy Pledge
. It is a MUCH better idea than the ill-fated Penn Fishing Bikini Team:
The Courier Post
alerts us to the alarming fact that
Striped Bass are breaking their curfew
. They are the nogoodniks of the fish world.
Sega Bass Fishing for the Wii
gives slacker youth the ability to fish without leaving their parent's basements. There's an even cooler game than Sega's version, its called FISHING. You do it outdoors. On water.
In the largest treaty of alliance since the Nazi-Soviet Non-Aggression Pact,
Rapala inks alliance with Shimano
.
The Atmore Advantage
writes on
Lew Childre, famed reel maker
.
Hayward Musky tournament anglers
catch and release 76 muskies over 34 inches
. In other news, Dr. Todd now knows why he didn't catch any musky.
Wife's dislike of fishing
creates office filled with mounted fish
.
The Contra Costa Times
reports that
Franklin D. Roosevelt liked to fish
.
The Olympian
chastises us for being
prejudiced against the mighty chum
.
The Hampton Pilot
tells us how tournaments
open the eyes of the world to fishing
.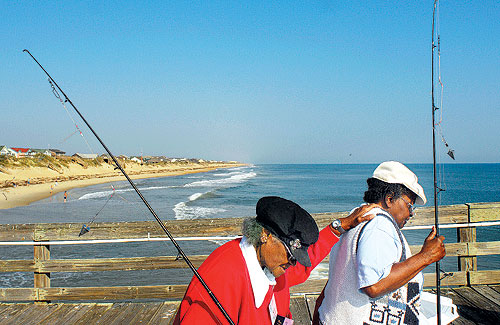 OBLIGATORY LADY ANGLER ARTICLE/TRITE PHRASE OF THE WEEK:
Luring ladies to fish
.
A monster goldfish
lurks in a Washington County lake
, and was caught-and-released. Uhm, lady, how do I say this politely...THAT'S AN INVASIVE SPECIES
Competitive bass fishing...
as a high school sport
?
The Antique Outboard Motor Club
is putting on a show
.
The Pensacola News
tells it is
flat fish time
. And no, they're not talking about Charlie Helin's lure.
And to leave on a high note,
The Benton County Daily Record
preaches the merits of
taking a child fishing
.
-- Dr. Todd